VAST Data announced its continued global growth with a booking run rate of $300 million for FY2022. VAST saw customer adoption and diversification, financial performance, and international expansion during this same period. Equally impressive is VAST was recommended by 100% of customers surveyed. In its short time in the market, by leveraging flash in creative ways, VAST has helped to reshape the notion of what high-capacity storage can look like.
VAST contributes its success based on the following metrics:
Unparalleled Customer Growth. VAST more than doubled its customer base YoY, expanding across industries including autonomous driving, life sciences, media and entertainment, financial trading, and government institutions with increasing demand in new market segments. On average, VAST's software manages around 12 petabytes (PBs) per customer, with the company's largest customer having already selected VAST software to manage more than 240PBs of data.
Predictable and Scalable Business. Customers continue to scale their VAST investments. Net revenue retention (NRR) exceeded 300% during FY22, demonstrating massive data growth and confidence in Universal Storage from existing VAST customers.
Customers Recommend Universal Storage 100%. VAST Data received high marks, as noted through the Gartner Peer Insights anonymous customer review program. VAST customers have exhibited the highest recommender rating, with 100% of the organizations submitting reviews saying they would recommend Universal Storage.
Worldwide Expansion. VAST expanded operations across five continents, building new teams in the U.K., France, Germany, Israel, Turkey, Czech Republic, Middle East, Australia, New Zealand, and Korea. FY23 will see additional expansion in the Benelux region, Switzerland, Italy, Spain, the Nordics, and Japan. Additionally, the company nearly doubled its headcount from the previous year and is expected to continue this growth trajectory during FY23.
A Seamless Software Offering. In April 2021, VAST changed the industry with its Gemini offering, a new business model that combines the commercial advantages of software with a simple appliance, aligning VAST's operating objectives with the needs of its customers. The adoption of the Gemini model across VAST customers has been both rapid and comprehensive, resulting in substantial annual recurring revenue (ARR) and a business model built on software gross margins.
Disrupting Legacy Strongholds, Accelerating New Discoveries. Over the past year, customers turned to VAST's Universal Storage platform to help solve their strategic data challenges. For AI, VAST is working with companies like NVIDIA to shift from experimental to production AI in the enterprise. For data protection, VAST is bucking the traditional model of purpose-built backup appliances, working with partners like Commvault to bring rapid backups and fast restores for instant data recovery in the event of a ransomware attack, disaster, or rogue employee. And for data analytics, customers like Agoda (a Booking Holdings subsidiary) selected VAST as the data science backbone for its big data and machine learning environment.
Renen Hallak, VAST Data founder and CEO, said, "From groundbreaking medical research to award-winning cinematic experiences, VAST's customers are working to expand the boundaries of what's possible in various aspects of our daily lives. Our singular goal is to empower AI-driven innovation with accessible, infinitely scalable data intelligence. What we've accomplished in just a few years' time is incredible — and we're just getting started."
AI continues to be driving the need for new high-performance data platforms that can quickly scale as organizations' data demands grow. This significant growth comes as m market predictions indicate capitalization of AI software and hardware companies could scale at a roughly 50 percent annualized rate, hitting $87 trillion by 2030. The data platforms that power AI are predicted to represent a $400 billion market over the next decade.
It's All About the Software
With its Universal Storage platform, VAST Data has created a next-generation all-flash data platform that addresses the challenges and compromises of scale, performance, efficiency, and cost to better meet the demands of today's data-deluged and AI-powered enterprises in a new era of machine intelligence. Maintaining consistent application uptime and integrity is equally important to realize the key feature benefits of Universal Storage. The company surpassed an impressive milestone over the past year, reaching 99.9999 percent data availability across the entire install base.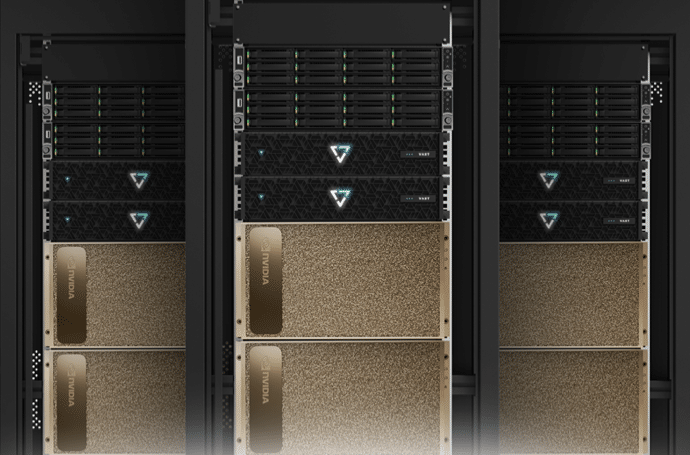 While storage platforms of course rely on hardware, the magic with VAST is really more about the software. In fact, when customers place an order with VAST, it's for software licenses. Hardware is fulfilled via AVNET, where customers can leverage their own buying power to ensure cost optimization.
Architecturally though, VAST Data leverages SCM SSDs like Intel Optane SSDs or the Kioxia FL6, to front-end lower-cost QLC SSDs. These all-flash systems disrupt traditional storage architectures, especially at scale, where HDDs tend to dominate. Of course flash media, especially when configured in a multi-flash-tier configuration, offer enormous performance gains over legacy infrastructures. And with the reluctance of any organization to ever delete data, because who knows when your AI/ML models might be able to benefit from that data, having the ability to rapidly analyze all data is critical.
In addition to being cost-effective and high-performance, VAST also makes sure to note that its software is easy to use. VAST also offers deep integrations with a variety of hardware and software partners ranging from NVIDIA DGX systems to popular enterprise backup and recovery applications.