Including Vess A8120 1U 4-bay rackmounted appliance, and A8600 3U 16-bay and A8800 4U 24-bay rackmounted models
Promise Technology, Inc. will debut its Vess A8000 Series, a robust and intelligent that balances customers' rising needs for larger storage capacity and quality surveillance video performance, at the 23rd Intersec showcase in Dubai from Jan 16-18, 2022.

The product strengthens the company's surveillance portfolio, enabling its security and surveillance customers to grow with data-intensive digital trends such as the use of Intelligent Video Analytics (IVA) and AI in real-time monitoring.
"Promise has been bringing purpose-build and customized IP video data solutions to surveillance customers around the world in the past decade," said Alice Chang, chief sales officer "Given the rapid pace of growth and needs within the global surveillance industry, our strengths in adaptability and compatibility are our commitment to our customers and partners to tackle the emerging challenges and opportunities with Promise comprehensive surveillance solutions."
The Vess A8000 Series comprising of the Vess A8120, A8600 and A8800 models, comes equipped with the firm's expertise in storage and experience in working with tier-one surveillance ecosystem partners to ensures the most reliable, flexible, and trustwothy solutions for surveillance projects in different scales.
Vess A8120


The Vess A8120 is a versatile appliance performing 1 of 3 roles: management server, recording server, or IVA server. This 1U 4-bay rack mounted appliance is designed for operating reliability and performance in surveillance projects worldwide. It will be coupled with external storage hardware Vess R3600 to demonstrate the throughput of up to 1,000Mb/s when paired with other products.
Click to enlarge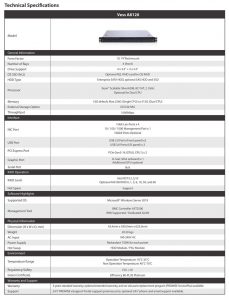 Vess A8600 and 8800

With the hardware advancements including PCI slots suitable for dual CPU option or a GPU card used for video analytics or other processor intensive applications, Vess A8600 and A8800 are engineered for video recording and Intelligent Video Analytics (IVA) applications. In addition, they are available with the company's proprietary SmartBoost technology which is proven itself the benefit of TCO in thousands of large-scale surveillance deployments worldwide. Both system's specs are unparalleled, with the Vess A8600 boasting 64TB and Vess A8800 at a 96TB, and huge scale-up potential up to 432TB that provides customers flexibility for future growth.
Click to enlarge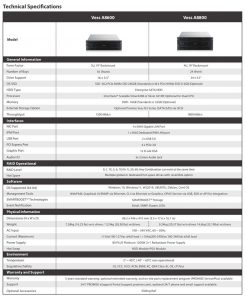 The A8000 Series is compatible with other company's storage offerings. Capacity can be added to an existing setup as needed using VTrak D5000/E5000/J5000 or Vess R3000/J3000 external storage hardware connected via a 12Gb SAS interface.
Promise at Intersec Dubai 2022
The event will be live this year, allowing the company to showcase its video surveillance products. Participants will view brand Vess A-Series surveillance solutions, as Vess A8120, Vess A8600, and Vess A8800 will be made available to the market in 2Q22.
Meanwhile, the firm's announced Green JBOD VTrak J5960 will be displayed to offer the energy saving storage expansion solution to surveillance customers for high-capacity data management demand.
As the record of continued efforts in integrated solutions with ecosystem partners, the company will showcase 3 live demos with its partners: the Vess A8020 with Digifort for ATM banking solution, the Vess A3120 with NetworkOptix for Linux-based projects, and the Vess A8120 and R3600 with Axxonsoft for AI solutions.