Offline storage table (OST) and personal storage table (PST) are two different Outlook data files used to store a copy of mailbox items on local storage. Outlook creates a PST file when you add a POP3 account in Outlook 2010 or later versions. OST is created when users sign in using an Exchange, Office 365 (Microsoft 365), Outlook.com or IMAP email account.
Both OST and PST Outlook data files are vulnerable to damage or corruption caused by inconsistencies as they grow larger and exceed the recommended limit.
TIP: You can use an Outlook repair tool to fix damaged PST file or use an OST to PST converter tool to convert inaccessible OST to Outlook importable PST format.
As a result, Outlook users start experiencing performance issues and encounter errors while sending or receiving emails (send/receive errors) – one of the most common problems that concern many Outlook users. In addition, it prevents them from accessing their mail items and could lead to permanent data loss.
Further Synchronization errors, inconsistent data or mail folders, missing mail items, connectivity errors and Outlook data file read/write errors are some other examples of common issues that Outlook users may encounter at some point. They are usually caused by damaged or corrupt Outlook data files, i.e., OST or PST.
Solutions to Fix Common Problems and Errors With outlook PST and OST Data Files
If you encounter issues with your Exchange or Office 365 (Microsoft 365) account in Outlook, follow these solutions to fix the Outlook data file, i.e., OST or PST.
Solution 1: Rebuild Outlook Data File
Did you know you could rebuild or recreate a damaged or corrupt offline Outlook data file (.OST)?
By recreating or rebuilding an offline Outlook data file, you can get rid of the inaccessible OST file without losing your mail items. For this, you need to locate the Outlook data file and then delete it after taking the backup. The detailed steps are as follow,
Open Outlook and right-click on your email profile.
Choose 'Open File Location…' This opens the default folder location where the OST file is stored.
TIP: If Outlook doesn't open due to an inaccessible OST file, refer to the following table to locate the OST file.
Close Outlook and backup the current OST file by copying the OST file to a safe location.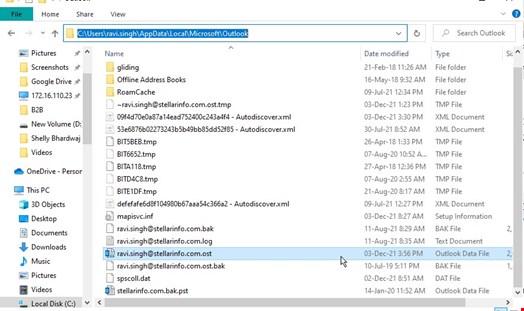 Delete the original offline Outlook data file (.OST) from the default location.
Open Outlook. This will recreate a new OST Outlook data file.
This fixes most issues you may encounter while using Outlook with Exchange, Outlook.com, or Office 365 (Microsoft 365) profile. However, if Outlook does not recreate the Outlook data file or fails to rebuild the OST file, it indicates that your profile is either deleted or disabled from the Exchange or Office 365 (Microsoft 365) server. You can contact your administrator to enable your profile or create a new profile in such a case. However, your Outlook data file, especially OST , enter the orphaned stage and becomes inaccessible.
To access the mail items from inaccessible OST files, you must convert the backup OST file to PST using an OST to PST converter tool. For damaged PST, you can use a PST repair tool, such as SCANPST.EXE or Stellar Repair for Outlook.
Solution 2: Repair Damaged or Corrupt Outlook Data Files
If the PST is damaged and you can't recreate it, use SCANPST.EXE to repair the PST file. The tool is located in the installation directory where Office (Outlook) is installed. Follow our blog to learn more and locate the SCANPST.EXE.
Once located, follow these steps to repair the PST file.
Double click on SCANPST.EXE to run it.
Click 'Browse' to choose the damaged PST file and click 'Start.'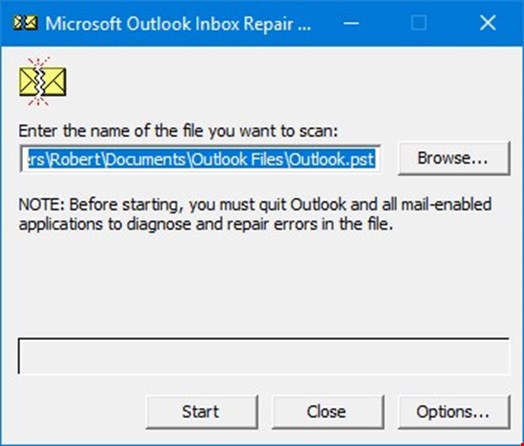 After the scan, the tool will inform if it finds any error and provides an option to repair. Click 'Repair.'
The tool will create a backup and fix the PST file errors.
After the repair, you can open your Outlook account and access the mail items from PST.
However, if the tool fails to repair your PST file due to large size or severe corruption, use PST repair tools, such as Stellar Repair for Outlook.
The software helps fix severe PST file corruption without any file size limit. It saves the mail items extracted from repaired PST file into a new PST file.
Solution 3: Convert Inaccessible Outlook OST File
Unlike PST, OST can't be repaired using Inbox Repair Tool (SCANPST.EXE). Since it's encrypted by default using the MAPIEntryID GUID key, you cannot import an inaccessible or orphaned OST file in any other account. However, you can convert an inaccessible or orphaned OST file irrespective of file size using an OST to PST Converter tool, such as Stellar Converter for OST.
The software can convert any OST file, including encrypted, to PST format with complete integrity and consistency. It maintains the folder structure and hierarchy while converting while saving the files extracted from the OST file to PST format.
Once the conversion completes, you can import the converted PST file to your Outlook account and restore the mail items. You may also export OST directly to a Live Exchange Server, Office 365 (Microsoft 365) tenant or an existing Outlook profile.
Conclusion
Outlook data files (OST and PST) store a local copy of mail items on your system. This helps access emails quickly even when the system is offline or the server is unavailable. However, OST and PST files are prone to damage due to various reasons, as mentioned in this article, which can cause various issues in Outlook. For example, it can prevent users from accessing their account or mail items, synchronize mail items with mailbox server, send or receive new emails, etc. However, one can fix these common issues by rebuilding or recreating the Outlook data file. This works in most cases where users fail to access their emails or encounter Outlook data file-related errors preventing them from accessing their Outlook account. Depending on your needs, you may use the built-in tool, such as SCANPST.EXE, or rely on a third-party Outlook file repair or OST converter tool.
By Bharat Bhushan Technical Marketer, Stellar Data Recovery