Western Digital has announced that the WD Red Pro 20TB CMR HDD is now available, adding to their previously released 20TB Gold and Ultrastar DC HC560 HDDs. Optimized for NAS enclosures (up to 24 bays) and purpose-built for high-intensity workloads in 24/7 environments, the new WD Red Pro line features OptiNAND technology for more efficient data placement.
This high-capacity drive helps both SMBs and large businesses archive, share, and protect their rapidly growing data, including high-res video, 3D models and animation, CT/MRI imaging, and other healthcare and scientific workloads. The WD Red Pro line is also available in a range of other smaller capacities, from 2TB all the way to today's announced 20TB model.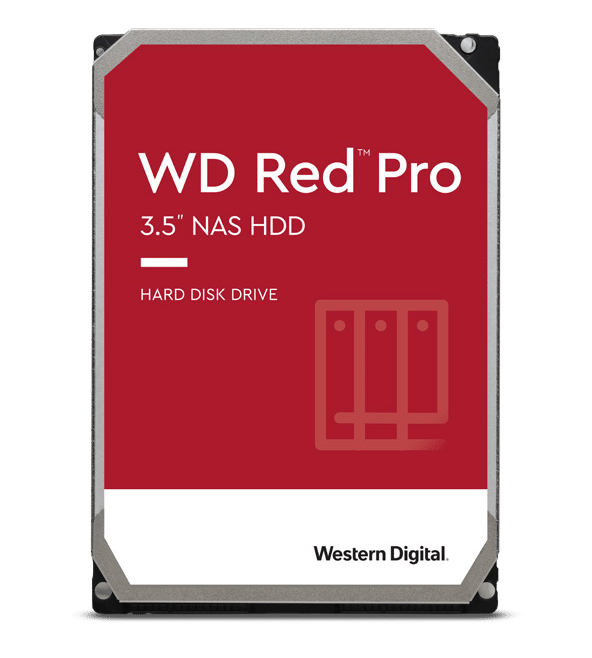 Like others from the WD Red Pro line, the 20TB model leverages NASware 3.0 technology. This is the company's proprietary advanced firmware technology that enables seamless integration, data protection, and optimized performance for NAS systems.
Also featured is WD's OptiNAND technology, which combines the iNAND, controller, and firmware into an SoC on the Red Pro's PCB. The iNAND is a 64-layer dynamic flash (BICS3) package that manages the metadata of the drive.
Performance-wise, the 7,200 RPM 20TB model is quoted with slightly lower transfer rates compared to the 18TB model at 268MB/s read (vs. 272MB/s read). Reliability remains the same as other higher capacities (20TB-10TB) of the Red Pro line, featuring an MTBF of 1 million hours, a workload rate (TB/year) of 200, and a 5-year limited warranty.
WD Red Pro 20TB Specifications
Model Number
WD201KFGX
Formatted capacity
20TB
Recording technology
CMR
Interface
SATA 6 Gb/s
Form factor
3.5-inch
Native command queuing
Yes
Advanced Format (AF)
Yes
RoHS compliant5
Yes
Performance
Interface speed (max)
6 Gb/s
Internal transfer rate
268 MB/s
Cache (MB)1
512
RPM
7200
Reliability/Data Integrity
Load/unload cycles7
600,000
Non-recoverable errors per bits read
<10 in 1014
MTBF (hours)8
1,000,000
Workload rate (TB/year)
300
Limited warranty (years)
5
Power Management
12VDC ±5% (A, peak)
1.80
5VDC ±5% (A, peak)
Average power requirements (W)
Read/Write
6.9
Idle
3.8
Standby and Sleep
1.6
Temperature (°C)
Operating
0 to 65
Non-operating
-40 to 70
Shock (Gs)
Operating, (2 ms, read/write)
30
Operating, (2 ms, read)
 50
Non-operating (2 ms)
250
Acoustics (dBA)
Idle
20
Seek (average)
32
Physical Dimensions
Height (in./mm, max)
1.028/26.1
Length (in./mm, max)
5.787/147
Width (in./mm, ± .01 in.)
4/101.6
Weight (lb/kg , ± 10%)
1.52/0.69
WD Red Pro 20TB Pricing and Availability