The Union Memory UH810a is a PCIe Gen4 SSD designed for highly available system designs. Supporting the NVMe 1.4 interface with 3D TLC NAND, the UH810a features a range of enterprise-grade protection and reliability features, such as flash-aware RAID, end-to-end data path protection, advanced ECC, secure erase, power-loss protection. It is also powered by a 12nm in-house controller.
This is the first time our StorageReview Labs have seen a product from the Chinese-based company, Union Memory, so we are eager to analyze how it compares to the more well-known and established brands like Intel, Samsung and Memblaze.
The UH810 uses the standard 2.5-inch form factor (SFF-8639 connector) and is designed for scenarios with intensive-read workloads. Union Memory also offers the UH830 series, which is meant for those who have more mixed read/write use cases.
Here's a quick rundown of the two series with their endurance ratings:
Series
DWPD
Capacity
Model
Series
DWPD
Capacity
Model

UH810a

1DWPD

1.92TB
RP2A01T9RK004LX

UH830a

3DWPD

1.6TB
RP2A01T6RK004VX
3.84TB
RP2A03T8RK004LX
3.2TB
RP2A03T2RK004VX
7.68TB
RP2A07T6RK004LX
6.4TB
RP2A06T4RK004VX
Performance-wise, the UH810a is quoted to deliver sequential reads up to 7,000MB/s for all capacities, while writes are expected to hit up to 3,800MB/s for the 7.68TB model. Random 4K reads and writes can reach up to 160,000 IOPS and 150,000 IOPS, respectively. It also features an MTBF of 2 million hours and has a power consumption of 8.5W (idle) and 21W (active) across all models.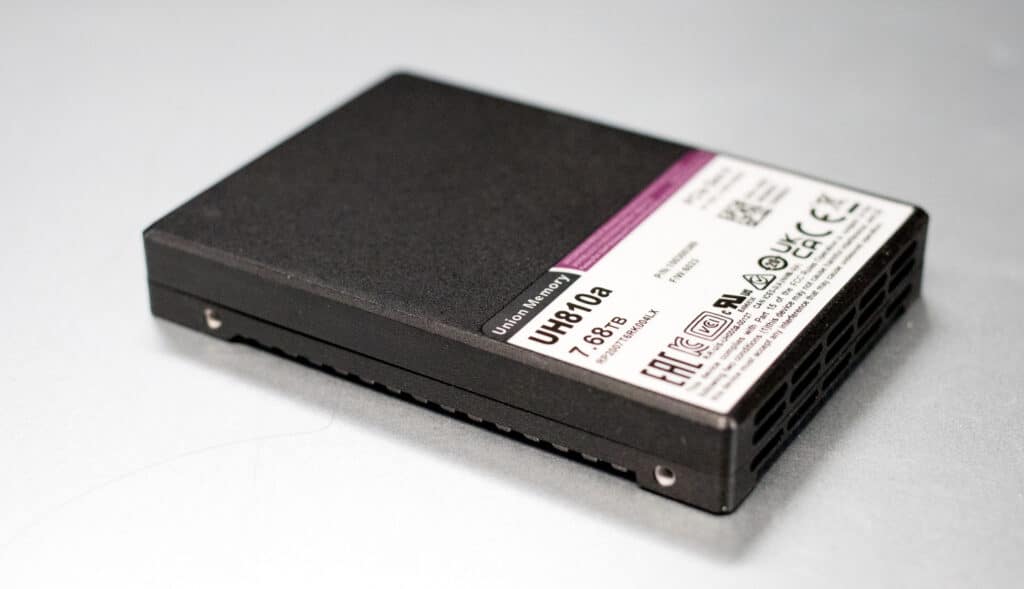 Another interesting feature of the UH810a is its support for online activation of firmware upgrades, which Union Memory indicates only takes 1 second. This means you won't have to engage a power cycle (i.e., turn it off and then back on) to update the drive, which certainly makes maintenance more seamless and downtime minimal.
Backed by a 5-year warranty, the Union Memory UH810a is available in capacities of 1.92TB, 3.84TB and 7.68TB. We will be looking at the 7.68TB for this review.
Union Memory UH810a Specifications
UH 810a
UH 830a (for comparison)
Capacity
1.92TB
3.84TB
7.68TB
1.6TB
3.2TB
6.4TB
Form Factor
U.2
NAND Flash
3D TLC
Sector Size
Support 512/512+8/4096/4096+8 sectors
Power Loss protection
Supported
Product Upgrade
Supported Through NVMe Commands
Performance
Sequential Read (128KB, QD32)
7,000MB/s
7,000MBps
7,000MB/s
7,000MB/s
7,000MB/s
7,000MB/s
Sequential Write (128KB, QD32)
2,500MB/s
3,800MB/s
3,800MB/s
2,700MB/s
4,200MB/s
4,200MB/s
Random ReadIOPS (4KB, QD128)
1,300K
1,600K
1,600K
1500K
1660K
1660K
Random WriteOPS(4KB,QD128)
100K
150K
150K
300K
300K
300K
Reliability
UBER
e10-17
MTBF
2 million hours
AFR
0.44%
Data Retention (Power off)
40℃, >3 months
Endurance (4K random)
DWPD: ~1
DWPD: ~1
DWPD: ~1
DWPD: ~3
DWPD: ~3
DWPD:~3
Service time
5 years (Not exceed the TBW)
Protocol
Bus Interface
PCIe 4.0
NVMe Protocol
NVMe 1.4
Port
Single
TRIM
Supported
Environmental parameters
Storage Temperature
– 40℃~85℃
Operating Temperature
0℃~78℃
Humidity
5%~95%R.H (without condensation)
Altitude
Operating:-305m-3048m, Non-operating:-305m-12192m
Vibration
Operating:2.17GRMS(5~700HZ), Storage: 3.13GRMS(5~800HZ)
Shock
Operating:1000G@0.5ms (Half Sine Wave)

Storage:1000G@0.5ms(Half Sine Wave)

Power Supply
DC 12V, +/-10%
Impulse Current (Max.)
<3A@1s
Physical Form
Form Factor
2.5 inches, SF-8200: 69.85×100.2×14.7mm
Weight
<350g
power consumption
Rated Power (Idle/Active)
8.5/17.5W
8.5/21W
8.5/21W
8.5/17.5W
8.5/21W
8.5/21W