TerraMaster Technology Co. Ltd. presents the D5 Thunderbolt 3 professional-grade RAID storage with compatibility with the Apple M1 chip-powered MacBook Pro.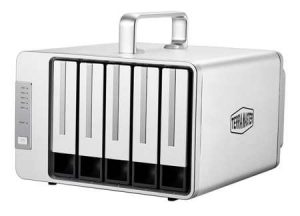 Company's certified compatibility of the D5 Thunderbolt 3 with MacBook Pro with M1 Pro and M1 Max and the latest macOS Monterey – the 18th and current major release of the macOS OS.
The D5 Thunderbolt 3 is designed to meet the needs of professional content creators that need high-speed, large-capacity storage for storing raw media files and work files. It provides speeds to allow 4K streaming and video editing. With macOS Monterey support, users of the latest M1-powered MacBooks can have the storage for all their professional needs. Furthermore, the D5 Thunderbolt 3 is compatible with the latest Thunderbolt 4 protocol to achieve a smart working space together with other Thunderbolt 3- and Thunderbolt4-enabled devices.
D5 Thunderbolt 3 rear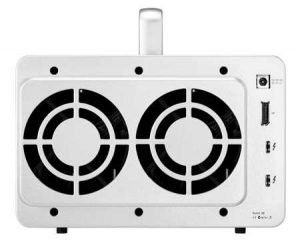 Compatible with macOS Monterey
The D5 Thunderbolt 3 is compatible with macOS Monterey. The Monterey-RAID driver update is available for download at the company's website.
Supports MacBook Pro with M1 Pro and M1 Max
The D5 Thunderbolt 3 supports the latest MacBook Pro with the Apple M1 Pro and Apple M1 Max chips, which features the Apple M1 architecture to the Apple professional notebook line-up. The combination of the D5 Thunderbolt 3 and the latest MacBook Pro offers flexible storage expansion to unleash the storage limitations that come with MacBooks.
Achieve productivity and smart workspace
The MacBook Pro with M1 Pro and M1 Max features Thunderbolt 4 ports which supports video, audio, and data transmissions. This allows users to connect multiple devices into one Thunderbolt 4 port. The Thunderbolt 4 ports on the latest MacBook Pros are backward compatible with Thunderbolt 3 and support the D5 Thunderbolt 3 with the macOS Monterey-RAID driver update.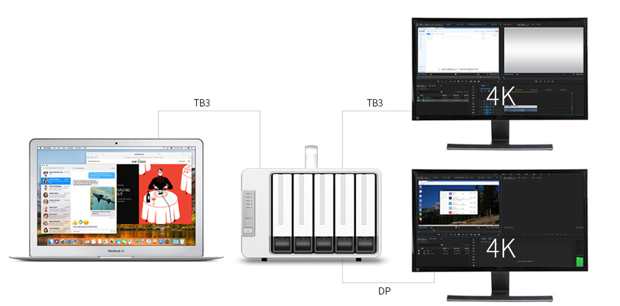 For professional video editing
The D5 Thunderbolt 3 can work with different professional video editing software supported by M1 Pro and M1 Max Macbook Pro, such as Logic Pro, MainStage, Final Cut Pro, Motion, Compressor, and others.
The D5 Thunderbolt 3 is available at the firm's Amazon Store and partner resellers for $699.99 MSRP.