With gain real-time, scalable message processing with No-Code ML, actionable insights and real-time visualization
This is a Press Release edited by StorageNewsletter.com on November 22, 2021
ScaleOut Software announced extensions to its Digital Twin Streaming Service that integrate its Azure-based in-memory computing platform with Microsoft Corp.'s Azure Digital Twins cloud service.
This integration adds new capabilities for real-time analytics to Azure Digital Twins review and unlocks important new use cases in a variety of applications, such as predictive maintenance, logistics, telematics, DR, cyber and physical security, health-device tracking, IoT, smart cities, financial services, and e-commerce.
The Azure Digital Twins integration is a set of extensions to the company's Digital Twin Streaming Service which adds a real-time component to Azure digital twin models. With this integration, the firm's real-time components can perform low-latency message ingestion and processing with immediate access to their corresponding Azure digital twin's properties instead of requiring Azure serverless functions to perform these functions. In addition, the Digital Twin Streaming service provides real-time data aggregation, continuous query, and real-time visualization for Azure digital twin properties.

Azure Digital Twins Integration enables application developers to create and run a real-time component within an Azure digital twin. This component hosts message-processing code and state properties that are used to track and analyze telemetry from a single data source on behalf of its corresponding Azure digital twin instance. Message-processing code can be written in C#, Java, JavaScript, or using an intuitive rules-based language. It can also incorporate ML algorithms implemented using Microsoft's ML.NET library that require no code development and continuously examine incoming telemetry for anomalies.
Key capabilities include:
Fast, in-memory processing and state storage: Integrating company's real-time components enables Azure digital twins to leverage in-memory computing and perform message processing with lower latency and faster access to state information than serverless functions. In-memory computing also boosts scalability to handle thousands or even millions of data sources.
Integrated connectivity to Azure IoT hub: The Digital Twin Streaming Service connects directly with Azure IoT Hub (and other message hubs) using a scalable software architecture for message ingestion and replies.
APIs for accessing Azure Digital Twin properties: Real-time components incorporate APIs that can read and update state properties in Azure digital twin instances. They also make it possible for Azure digital twins to store complex data structures, such as event lists.
Real-time visualization tools. The Azure Digital Twins Integration also enables continuous data aggregation and charting of state properties held in Azure Digital Twin instances. Users can also perform continuous queries with geospatial visualization.
"We are excited to combine our in-memory computing technology with the popular Azure Digital Twins platform to deliver fast, scalable insights that help address real-time challenges across industries," said Dr. William Bain, CEO and founder. "By incorporating this technology, ScaleOut Software is enabling a new wave of applications for Azure Digital Twins, and we look forward to helping our customers take full advantage of this integration to meet their real-time monitoring and streaming analytics capabilities."
Click to enlarge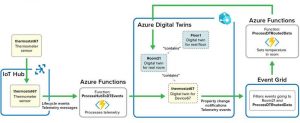 Benefits of ScaleOut software's Azure Digital Twins integration
Adding real-time components to Azure digital twin models offers these benefits:
New use cases for Azure Digital Twins: This integration widens the spectrum of use cases for Azure Digital Twins. Countless applications, from telematics to cyber security, must track thousands of data sources with low latency and react quickly to emerging issues. They can now use the company's real-time components to accomplish this with their Azure Digital Twins models.
Enhanced situational awareness: Real-time data aggregation and visualization provided by rreal-time components provides a continuous view of the dynamic state of Azure digital twin instances. This maximizes situational awareness and enables managers to identify and address emerging issues.
Integrated data view: The Azure Digital Twins integration combines state properties for real-time components with other properties tracked by Azure digital twins, giving users an unified view of all data when using the Azure Digital Twins Explorer GUI tool.
Simplified application development: The use of real-time components simplifies application development for message processing and accessing an Azure digital twin's state. It also consolidates the code required by multiple serverless functions and avoids the need for application-specific code for message ingestion from Azure IoT Hub.
Automatic persistence: By integrating with Azure Digital Twins, real-time components automatically persist their state to Azure Digital Twins for offline storage. This enables them to run at fast, in-memory speed while saving and restoring their state across deployments on start up.