For serious storage enthusiasts, the SSD we have on our test bench today just might be the most eagerly anticipated of all time. The reason this SSD is considered by some of us to be the holy grail of consumer NVMe storage isn't for the usual reason; being the fastest, it's more about capacity than anything else. After all, as Sabrent has single-handedly taught us all, capacity is KING.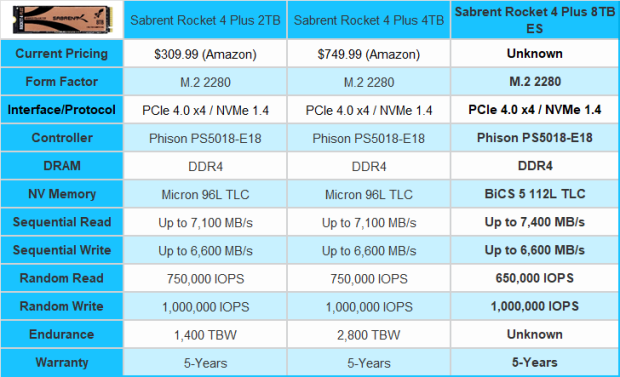 Now, this SSD isn't the first consumer-focused 8TB M.2 NVMe SSD offering. That distinction belongs to another SSD in Sabrent's unparalleled storage portfolio. Sabrent's 8TB Rocket Q NVMe hit the scene in June 2020 and as we see it, established Sabrent as a leader in consumer solid-state storage. Unprecedented for a fledgling SSD retailer.
So here we are, the first of the review community to get their hands on this holy grail of consumer NVMe storage right as its impending arrival was being announced by an official Sabrent video a few days ago (seen above). Why all the excitement? After all, it's not the first 8TB M.2 NVMe SSD to hit retail channels. However, it is the first of its kind in aspects that are paramount for storage enthusiasts and prosumers alike. Sabrent's newest is the first consumer 8TB M.2 SSD with a Gen4 interface, and some would argue even more importantly, the first 8TB consumer NVMe SSD arrayed with TLC flash.
Capacity is King, but the same could be said for throughput for various reasons. If it's throughput that you are after, the new King has plenty to offer, as demonstrated by this benchmark run on our AMD test bench:
In terms of throughput, at 7,456 MB/s, Sabrent's 8TB Gen4 TLC behemoth can deliver all the Gen4 x4 interface has to offer. Along with capacity, throughput like that is exactly what prosumers require for most modern workloads, not to mention this baby is absolutely the ultimate luxury upgrade for PS5 aficionados.
As you might imagine the SSD, we've got on the bench today is a modern engineering marvel. As with Sabrent's first 8TB M.2 SSD, the Rocket 4 Plus 8TB is a collaborative effort with Phison Electronics. Sabrent's know-how and partnership with Phison, has, as we've seen for two years now, brought forth unprecedented consumer storage devices, both in terms of capacity and performance.
Up to now, we've only seen retail Phison E18 based SSDs arrayed with either 96 Layer or 176 Layer Micron TLC flash. The 8TB Rocket 4 Plus, however, is arrayed differently than its older siblings. The 8TB model is arrayed with 1024Gbit BiCS 5 112 Layer flash. Employing 1024Gbit die enables a full 8TB RAW capacity (8,192 GB) with eight 8-die flash packages. Come to think of it, with 8,192GB RAW (unformatted) capacity, the 8TB Rocket 4 Plus offers close to 200GB more usable capacity than its cousin, the 8,000GB QLC based 8TB Rocket Q NVMe. True 8TB capacity, we like that.
We got ahold of this drive before factory specs or even retail packaging had been finalized. As such, we are estimating throughput and random performance based on our testing. These specs may differ from Sabrent's official stated factory specs when published. As always, when you buy a Sabrent SSD, it comes with valuable complimentary software, including a copy of Acronis for Sabrent and Sabrent's award-winning Rocket Control Panel SSD management software. You can get Sabrent's Rocket Control Panel here.
Use Rocket Control Panel to download Acronis and other Sabrent complimentary SSD management software. Be sure to register your Sabrent SSD via the Rocket Control Panel to activate a limited 5-year warranty, the limitation being TBW (Total Bytes Written). Without registration, Sabrent warrants its SSDs for 1-year, so be sure to register your Sabrent SSD. We estimate the 8TB Rocket 4 Plus will carry a TBW rating of between 5 and 7 petabytes.