The Sabrent DS-SC5B is a 5-bay "docking station" that allows users to create a high-capacity, external storage solution. It supports up to five SATA 3.5" hard drives, features an all-aluminum build, and is equipped with USB 3.1 Gen2 connectivity. While the DS-SC5B is designed specifically for 3.5-inch HDDs out-of-the-box, you can still use SSDs with 3.5″ adapters.  Moreover, the DS-SC5B features a rear USB Type-C port, which allows users to connect additional USB devices for additional storage or even another docking station for daisy-chaining capabilities.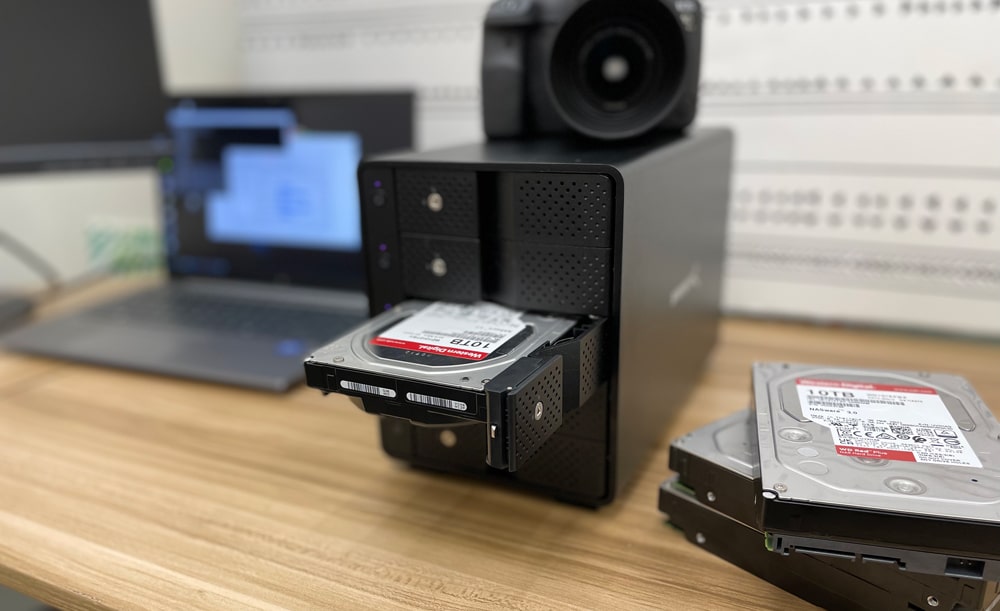 Sabrent DS-SC5B Docking Station Design and Build
At 14.5 inches in depth and 9.4 inches in width, the Sabrent DS-SC5B is a pretty sizeable docking station that will need a decent amount of desk space. It can get pretty loud at times, so you might not want it too close to your work area–once the fans get going, you can't stop them (you also can't customize fan speeds).
The DS-SC5B features a nice all-aluminum build that feels very sturdy and well built. All drives are accessed at the front of the DS-SC5B via the five slots (or "door") that take up the entire panel. Each drive door has its own locking mechanism unlocked/locked by a key, an on/off button to quickly terminate or enable access to an individual drive, and ventilation to keep the drives cool under heavy workloads.
Sabrent DS-SC5B Docking Station Specifications
Product name
Sabrent DS-SC5B
Interface
USB 3.2 Type-C port w/ up to 10Gbps transfer speed (Rear)
Drives supported
SATA 6Gbit/s
Bays
5 (Tool-lee, hot-swappable)
Additional connectivity
USB Type-C port for supplemental devices (Rear)
System requirements
Windows / Mac OS / Linux
Physical
•         Dimensions: 14.5 x 9.4 x 11.2 in

•         Weight: 195.6 oz (w/o drives)

•         Color: Black

Package contents
•         USB Type-C to Type-A cable

•         USB Type-C to Type-C cable

•         Power cable

•         Locking Key

•         Quick installation guide

Warranty
1 year (extended to 2 years if registered)