Qumulo, Inc. announced that it has been certified by Veritas Technologies, LLC as a qualified software platform for Veritas Enterprise Vault.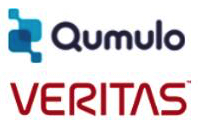 This designation recognizes that Qumulo Core meets the strict technical requirements of Veritas Enterprise Vault.
This later allows enterprises to store, manage and discover all communications and documents by combining the power of cloud storage, advanced supervision/discovery and enhanced classification to make compliance easier. Through this certification, customers can use Qumulo and Veritas Enterprise Vault together for performance, ease-of-use and reliability for their data.
"We are pleased about the availability of this new platform offering for Veritas Enterprise Vault customers," said David Scott, senior director, product management, digital compliance, Veritas. "The power of the Qumulo File Data Platform brings a great new storage solution that offers enhanced speed and agility to the Enterprise Vault ecosystem. We look forward to a wide adoption of Qumulo for our joint customers."
"Customers today have more data at their disposal than ever before," said Ben Gitenstein, VP of product, Qumulo. "Sorting through and making sense of this data can be difficult. Through the Veritas Enterprise Vault certification, customers can now use the Qumulo platform with confidence to perform advanced e-Discovery for collaboration and integration for their businesses to run for advanced Early Case Assessment (ECA) searches, ultimately yielding greater results."
Fortune 500 companies, major film and animation studios, and some of the world's largest research facilities rely on Qumulo to manage billions of files. The company ranks among the highest Net Promoter Scores (NPS), consistently over 85, and is recognized by users for its dedication to customer satisfaction.