Including KoiBox-100W video conferencing solution, TS-h1290FX 25GbE-ready NVMe all-flash NAS, TS-464T4 Thunderbolt 4 NAS, Silent and fanless multimedia NAS, 10GbE/2.5GbE switch lineup, Mesh VPN and Mesh Wi-Fi router solutions, and series of network virtualization premise equipment with QuCPE systems
At CES 2022, Qnap Systems, Inc. showcased a line of NAS, networking and video conference solutions for business and home users.
The KoiBox-100W video conferencing solution, TS-h1290FX 12-bay all-flash tower NAS, TS-464T4 Thunderbolt˛ 4 NAS, HS-264 silent and fanless multimedia NAS, the complete 10GbE/2.5GbE switch lineup, Mesh VPN and Mesh Wi-Fi solutions, and new series of network virtualization premise equipment signifies the company's ingenuity in CES 2022.
KoiBox-100W video conferencing solution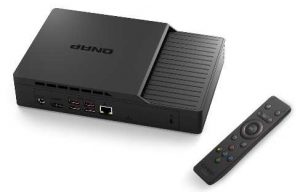 All-in-one video conferencing and wireless presentation solution
Running the KoiMeeter video conferencing OS, the KoiBox-100W is the replacement for costly SIP-based conferencing systems and features value-added 4K wireless projection, 4-way communication, and local storage features. Creating private meetings with the KoiBox-100W provides higher security and privacy compared with public cloud meetings, and the auto-answering function provides greater convenience in certain usage environments.
Koibox 100W front and rear


Besides private meetings, it streamlines communication between different platforms by allowing joining Zoom, Skype, Microsoft Teams, Cisco Webex, and Google Meet˛ calls. The easy-to-use KoiBox-100W supports Ethernet, Bluetooth, and Wi-Fi 6. Simply connect the KoiBox-100W to an HDMI display and network, pair with a camera and microphone, and your meetings are ready to go.
Koibox 100W user interface screenshot
Click to enlarge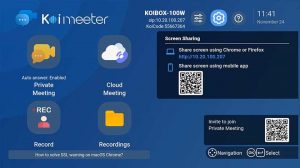 High-speed video editing and backup solutions:

25GbE-ready NVMe all-flash NAS and next-gen Thunderbolt 4 NAS
TS-h1290FX: Supporting 12xU.2 NVMe PCIe Gen4/SATA SSD drives, the TS-h1290FX is the company's first all-flash desktop NAS that is for office environments. Equipped with an AMD EPYC˛ 16 core 7302P/8 core 7232P processor and built-in 25GbE and 2.5GbE connectivity, it empowers data-intensive, low-latency applications and enables smooth file transfer, display, and real-time editing of 4K/8K media. Performing and scalable, it streamlines backup, collaboration, and video editing/storage workflows. It supports installing an Nvidia graphics card and FC card and offers direct connectivity for up to 20 PCs/workstations when used with multiple firm's PCIe quad-port network cards. It can also be paired with QDA-UMP4 U.,VMe to M.2 NVMe PCIe Gen 4 adapter to boost IO/s performance when configuring SSD caching and expanded with the company's TL-D800C and TR-004 enclosures.
TS-464T4: A Thunderbolt 4 NAS, the TS-464T4 features a Celeron N5105 quad-core processor, dual-port Thunderbolt 4, native 2.5GbE/10GbE connectivity, and 2xM.2 NVMe PCIe slots, providing storage for high-speed media editing and file sharing. It enables the visual experience with HDMI 2.0 output (4K @60Hz) and real-time transcoding capabilities. More than a storage and backup center, its performance and multifaceted applications make it a collaboration station to optimize creative workflows and achieve greater possibilities.
Silent and fanless multimedia NAS


The silent and lightweight HS-264 home NAS is for multimedia playback and streaming with dual HDMI 4K output. With a Celeron N5105 quad-core processor and t2x2.5GbE ports, the HS-264 works as a Home Theater PC for entertainment experience. With

the company's

multimedia applications (such as

QuMagie

,

Video Station

,

Music Station

, and

Plex Media Server

), the HS-264 is a cost-efficient shared storage for M&E. In CES 2022,

the company

will collaborate with

Silent Ange

l

, the provider of Hi-Fi streaming solutions, to live-demonstrate the multimedia potential of the HS-264 along with Roon.
Complete 10GbE/2.5GbE switch lineup
QSW-M2116P-2T2S switch front and rear



QSW-M2116P-2T2S: The QSW-M2116P-2T2S L2 PoE managed switch offers a total power budget of 280W, 2x10GbE 90W PoE++, 16×2.5GbE 30W PoE+, and 2x10GbE SFP+ ports. It enables a high-speed and high-power PoE network infrastructure for Wi-Fi 6 Access Points and Routers, abd also provides backbone network uplinking capabilities.
QSW-M2108-2C switch

Broadest lineup of 10GbE/2.5GbE switches: To embrace high-speed networking, the company also present a broad lineup of 10GbE/2.5GbE managed and unmanaged switches. For SMBs, the company provides the QSW-M2108R-2C, the QSW-M2108-2C, and the QSW-M2108-2S – the entry-level Layer 2 web managed switches with 10GbE SFP+/combo ports and 2.5GbE RJ45 ports; for SOHO users, the QSW-2104-2T and the QSW-2104-2S plug and play unmanaged 10GbE/2.5GbE switches are a choice for creating an affordable high-speed network environment. As for home users, the firm proposes the QSW-1108-8T and the QSW-1105-5T unmanaged multi-gigabit 2.5GbE switches for quickly upgrading home network environment.
Mesh VPN and Mesh Wi-Fi router solutions

QuWAN is the firm's SD-WAN solution that provides WAN optimization and steady network transmission for big data digital transformation. The QHora-301W supports Wi-Fi 6 and 10GbE connectivity and allows businesses to remotely deploy multi-site mesh VPN.
QHora-301W front and rear


The QMiroPlus-201W combines a mesh Wi-Fi AC2200 router and a 2.5GbE NAS, allowing to centrally manage and access locally-stored and cloud-based files and data.
QMiroPlus-201W front and rear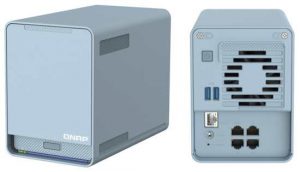 Series of network virtualization premise equipment
QuCPE 7012 front and rear



The company's QuCPE is the integrated the firm's SD-WAN (QuWAN) network virtualization solution designed for SMBs. The QuCPE-3032 and QuCPE-3034 use performance Atom Refresh multi-core processors that supports Intel QAT, Smart NIC SR-IOV, and DPDK hardware acceleration technologies, while providing multiple 10GbE SFP+ ports and 2.5GbE RJ45 ports for fast connections.

The QuCPE series features the QNE Network (Qnap Network Equipment) OS for chaining VNF services and AMIZ Cloud centralized deployment and management platform to realize flexible 'Zero Touch Provisioning' for multi-user and multi-tasking business applications.
The availability of the aforementioned new products will be announced separately.