Phison Electronics Corp. held the phase 5 of the new R&D building opening and affiliated parking tower beam-raising ceremony on November 21 in Taiwan.
The increased R&D capacity can grasp the trend of unlimited demand for NAND storage in edge and cloud systems driven by 5G wireless technology, including industrial automation, automotive electronics, e-sports equipment, mobile devices, cloud servers, and data centers markets.
In addition, Phison also announced at the ceremony that it will continue to invest more in Taiwan in addition to the existing corporate HQs and R&D buildings (Phison has invested more than NT$3 billion in R&D buildings in Phases 1 to 5 so far), and continue to increase Taiwan's R&D capacity and build a R&D team for NAND controllers and storage solutions globally.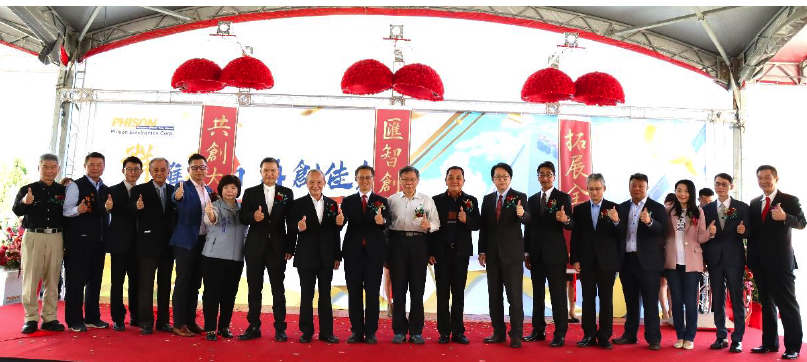 Opening Ceremony of Phison's New R&D Building
The total investment of the phase 5 R&D building is nearly NT$1.5 billion, with a total construction area of more than 42,975 square meters and a total of 9 floors. It is a composite R&D building integrating R&D center, inventory management, and parking space. It is estimated that the new building can add another 1,500 to 2,000 R&D engineers to meet the continuously growing NAND storage market demand. In addition, the affiliated parking tower has a total investment of more than NT$830 million, with a total construction area of more than 31,074 square meters, and a total of 11 floors. It is expected that more than 1,000 parking spaces can be increased; this parking tower will not only realize that everyone in the company has a parking space, but will also become a new welfare index for Miaoli Jhunan Guangyuan Science Park.
COB K.S. Pua stated that although the epidemic has slowed recently, Phison still abides by relevant epidemic prevention measures to simplify the ceremony. In addition to inviting Zinan Temple chairman Chuang, Chiu-An, Miaoli county Mayor Hsu, Yueh-Chang, Taipei mayor Ko, Wen-Che, Miaoli county council speaker Chung, Tung-Chin, member of the legislative Yuan Chiu, Chih-Wei and Tsai, Pi-Jo and Kao, Hung-An, The Allied Association for Science Park Industries and Kuec chairman Li, Chin-Kung, Chipbond chairman Wu, Fei-Chien, OSE chairman Tung, Yueh-Ming, etc., and the rest of the participants are basically Phison colleagues.
Phison hopes to reduce the chance of cluster infection of Covid-19 by simplifying the ceremony and respond to the government's epidemic prevention measures.
K.S. Pua went on to explain that, according to CommonWealth Magazine's evaluation in 2021, Phison is already among the top 4 IC design companies in Taiwan. The firm currently has more than 3,000 employees WW, 70% of whom are R&D engineers.
Since its establishment, the cumulative R&D investment has reached NT$39.2 billion.
Moreover, as the demand for NAND storage driven by 5G wireless technology continues to rise, global customers' needs are coming one after another. Therefore, the company will continue to invest more in Taiwan and deepen its R&D.
In addition, it is estimated that by 2025, the number of global R&D engineers will exceed 3,000, creating an international-level NAND controller R&D team, letting the world to see Taiwan's technology.