GigaOm Radar for Enterprise Scale-Out File Systems v2.0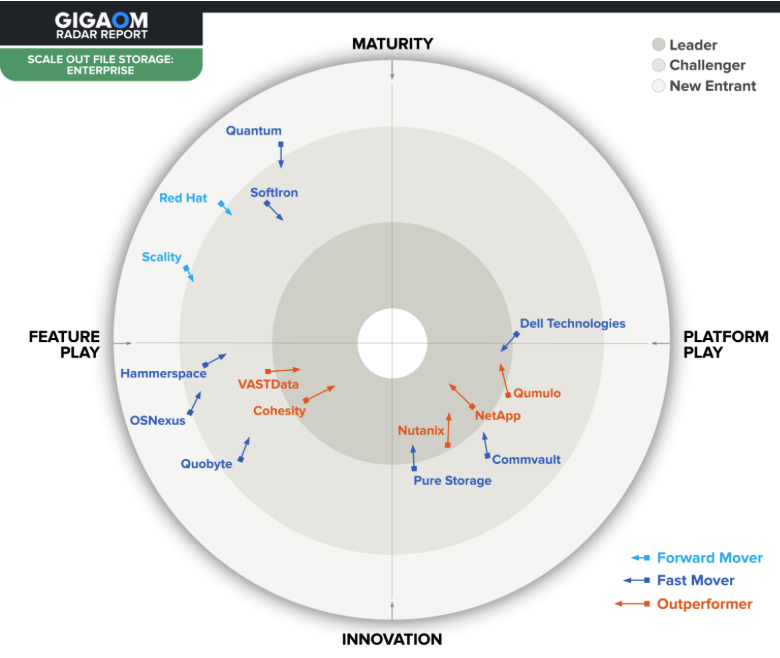 Summary
File storage remains one of the most popular ways to store data, both on-premises and in the cloud. Scale-out file storage is becoming the default choice for most organizations for several reasons, including:
• Scale-out file storage can expand quickly while increasing throughput.
• Object storage, although very popular, isn't overshadowing file systems yet. File systems are often accessed via network protocols like NFS and SMB, and are still the storage system of choice for a large number of workloads, including big data analytics, AI/ML, and HPC.
• Modern file systems are much more scalable than in the past, providing a familiar user interface and authentication methods with performance and scalability.
• Legacy applications continue to drive demand for file storage. Usually written to work with POSIX-compliant file systems, the cost of refactoring such applications to benefit from object storage may outweigh the cost benefits, thus making file storage a preferred option.
• Modern scale-out solutions are mature and flexible, with most of the complexity now hidden behind the scenes. In the end, managing a large scale-out system is less time-consuming than managing several scale-up systems.
• Solutions that support data mobility across different environments are becoming increasingly important for executing properly on hybrid IT strategies, and scale-out file storage systems are easy to implement on cloud VM instances.
Unstructured data accounts for up to 90% of what is stored in enterprise infrastructures. Therefore, storage that is scalable and fast enough to manage interactive workloads is crucial for responding adequately to business needs. That said: enterprises don't want to trade scalability and performance for the data services and flexibility they usually get from traditional scale-up NAS solutions. Even more so with the advent of multi-cloud, users want the flexibility to move data where it's needed, increasing the demand for advanced data services. At the same time, users want solutions ready to respond to increasing regulatory needs, data governance tasks, and risks coming from a growing number of security threats, including ransomware. This expansion of the IT mission is why scale-out storage systems are much more balanced than in the past and tend to encompass enterprise features like scalability, flexibility, efficiency, security, and performance characteristics.