Using Nvidia HGX A100 4-GPU platform with Nvidia NVLink GPU interconnect in place of traditional PCIe GPU
One Stop Systems, Inc. has unveiled its AI transportable compute server, Rigel Edge HPC, at SC21, the international conference for HPC being held in person in St. Louis, MO, last November 15-18.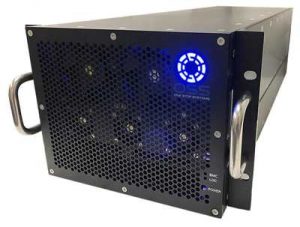 Rigel reaches heights in GPU-accelerated compact edge computing systems, embodying performance without compromise where it counts. It is a first edge product of its kind to use the high-performance Nvidia HGX A100 4-GPU platform with the latest Nvidia NVLink GPU interconnect in place of traditional PCIe GPUs.
It boasts a compact air-cooled solution with 25.6″ of depth, which fits in one-half of 4U rack space, roughly one-half the size of most other air-cooled quad-GPU solutions. The liquid-cooled version of Rigel will reduce that size to one-half of 3U rack space.
The dense form factor makes it suited for deployments in tight spaces available at the edge, such as an equipment bay of autonomous vehicles, within mobile command centers, under seats of helicopters, or in an aircraft equipment bay with 2 Rigels side-by-side in 4U of rack space.
AI Transportables are differentiated from the traditional edge AI infrastructure in how they deploy the latest highest-speed datacenter-class processing, input/output, networking and storage technologies for operation in harsh and rugged environments. They meet mil-spec requirements for shock and vibration, redundancy, operating temperature ranges, altitude ranges and uninterrupted power.
Rigel Edge HPC rear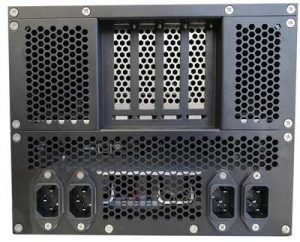 Additional features and options that deliver performance without compromise include up to 800Gb/s networking by using up to 4 Nvidia ConnectX-6 200Gb/s IB adapters, 64TB of NVMe flash storage, 24 core AMD EPYC 7002 processors, and a OSS PCIe Gen 4 switched direct interconnection between these critical components. The system also includes a secure, unified management and control module supporting Redfish industry-standard specs, with a interface to all the system resources, as well as externally attached OSS expansion options such as additional GPUs, networking, I/O and NVMe storage.
In AI Transportable edge applications, power is critical. Rigel supports a flexible power subsystem including single and three phase AC and DC inputs enabling a range of ground station and vehicle-supplied power.
"Virtually all AI edge compute platforms on the market today do not integrate and optimize datacenter-class computing with compact, rugged form factors," stated David Raun, president and CEO. "As our most compact and powerful AI Transportable compute server, we believe the Rigel Edge HPC will transform the use of real-time AI for the most demanding vehicle, maritime and aerospace applications at the edge."
Rigel addresses the growing demand for AI Transportables, which represents the fastest growing segment of edge computing. The edge computing market is expected to grow at a CAGR of 34% to $15.7 billion by 2025, according to MarketsandMarkets.
Click twice to enlarge