Seagate Technology plc has demonstrated the first native NVMe HDD drive at the OCP Global Summit, illustrating and confirming the viability of the NVMe protocol on HDDs.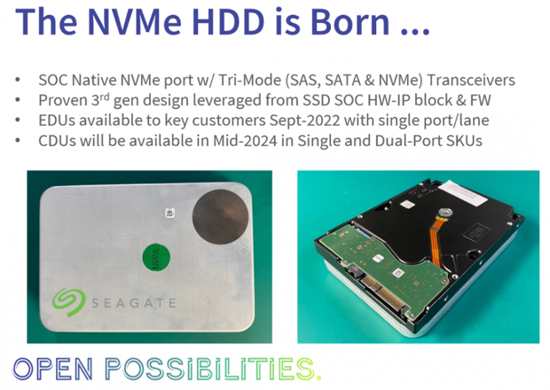 The implementation provides integrated NVMe protocol support within the HDD controller itself and requires no bridge. The goal is to pave the way for a consolidated NVMe interface across HDDs and SSDs.
The company implemented native NVMe HDD storage devices will help enable delivery of optimized access to data in support of streamlined storage composability. Its deployment will bring benefits including reduced TCO; energy savings; streamlined feature development, performance enhancements, and minimized components required for infrastructure solutions; easier and more flexible scaling; the removal of proprietary code; and easing the path to innovation.
The technology is part of this year's 'OCP Experience Center' at the summit, and shows the functionality of the NVMe HDDs in a PoC JBOD enclosure. As part of this demo, the firm partnered with leaders and developed a 2U 12-bay JBOD enclosure including a PCIe switch which provides the fabric interconnect for the connected HDDs. Utilizing NVMe allows HDDs to take advantage of this feature rich interface and simplified storage architecture.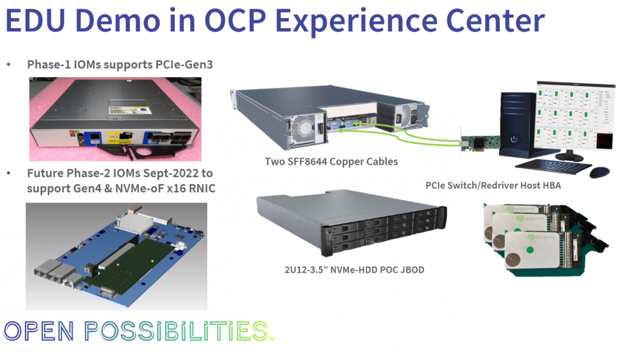 Several advantages are being discussed at demonstration:
TCO advantages, including:

Reduced component count
Simplified stack eliminating proprietary SAS/SATA drivers

Native support for multi-actuator HDDs
High-volume connectors (SAS and SATA)
Common management APIs via Redfish
OCP (Open Compute Project), with broad industry support, continues to evolve and specify the technical features of NVMe HDDs through its NVMe HDD Workstream meetings, with a goal to enable and encourage broad industry adoption over time. The work provides a launching platform for NVMe HDDs into architectures like NVMe-oF for protocol translation. It also allows for support of the latest open source composability tools, including Kubernetes, which provides a fully managed container service for flexible deployment of applications.
As NVMe continues to be a cornerstone for new storage architectures and feature deployment, its support for rotational media ensures HDDs will have the capability to support the industry's latest architectures and initiatives. NVMe HDDs will have access to a range of open source storage management APIs and tools utilizing Redfish, which provides simple and secure management APIs for disaggregated storage solutions.