Storage solution reliable in applications with potential radiation exposure, and meeting NASA's EEE-INST-002 space-grade application guidelines
by StorageNewsletter.com
Mercury Systems, Inc. announced its latest NAND flash NVM device.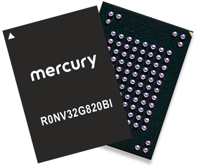 Featuring a plastic ball-grid array (BGA) package meeting NASA's EEE-INST-002 space-grade application guidelines, these purpose-built radiation-tolerant devices are for high density memory storage applications that require reliability in high-radiation environments like space.
"Our new purpose-built flash memory augments the latest commercial semiconductor technology with trusted manufacturing and radiation tolerance, delivering a solution ideal for on-orbit data processing," said Tom Smelker, VP and GM. "It's through this close collaboration with the semiconductor industry that Mercury is able to accelerate technology adoption in the new space economy, enabling more agile and cost-effective satellite constellations."
The NAND flash memory's 32GB capacity storage makes it for data-intensive applications including AI and ML. Its reliability minimizes failures in the field, while its optimal size, weight, and power (SWaP) profile enables customers to use more memory in less space than other memory devices.