The release of the Intel 12th generation Core and AMD Ryzen 6000 chips have finally brought DDR5 memory to the mainstream PC market, bringing with it a slew of benefits. For this review, we will be looking at the Lexar Ares OC DDR5  desktop memory kit, which is specced at 5200MHz.
Lexar indicates that their new memory kit is optimized to pair with the latest Intel Core processors. We will also be comparing it to other DDR5-5200 kits (like the recently reviewed Kingston Fury Beast) and benchmarking it at DDR5-4800 to find out if the upgrade and additional cost of DDR5-5200 are worth the higher price tag.
Lexar Ares OC DDR5-5200 Features
DDR5 debuted in 2021 as the replacement for DDR4, which had been the mainstream standard since 2015. Among the new benefits of DDR5 technology (specifically with this Lexar kit as well) are built-in on-die ECC, and real-time data error correction (to improve stability and reliability when you push the memory to its limits).
Moreover, its built-in Power Management IC (PMIC) means better power control and power delivery when operating at 1.25V (a low voltage XMP Profile). This will help improve overall power efficiency.
Higher performance is also a huge advantage with DDR5, as Lexar indicates an improvement of more than 1.6x the bandwidth compared to DDR4 memory.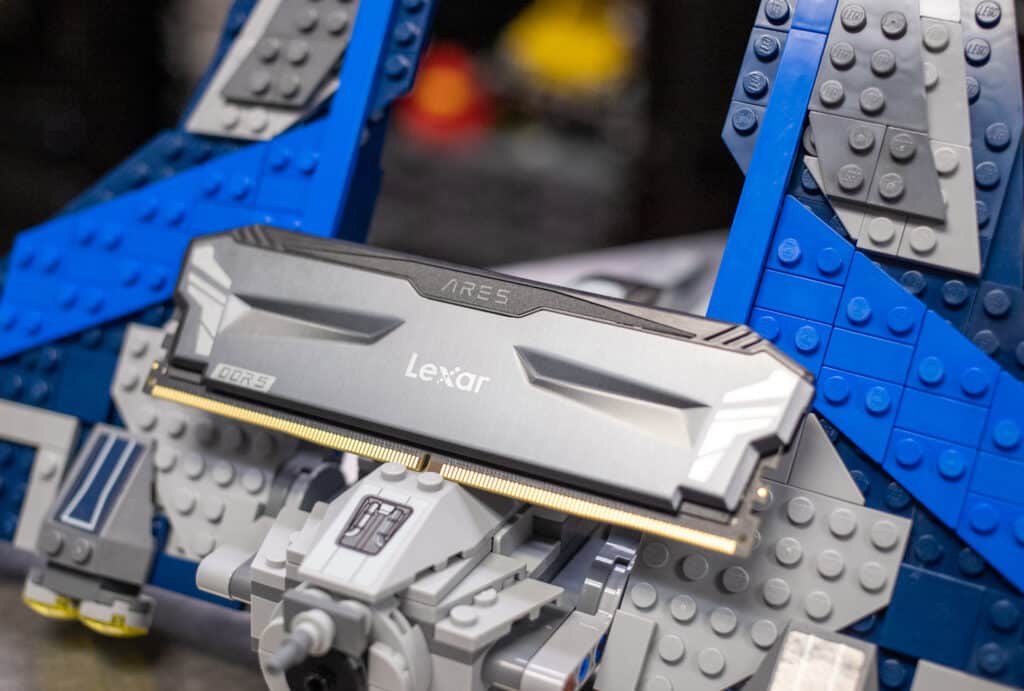 The Lexar Ares OC DDR5-5200 desktop memory kit is designed specifically for enthusiasts, gamers, overclockers (as its product name indicates) and creative applications. We will be reviewing the 32GB kit via two 16GB DIMMs. Currently, it goes for $250 on Amazon, which makes it a bit pricier than the Corsair Vengeance (on sale at $198 on Amazon) and the Kingston Fury Beast (on sale at $185 on Amazon), and slightly less than the XPG Lancer ($279 on Amazon).

These prices are certainly higher than its DDR4 predecessor; however, prices seem to be driven down as they become more mainstream adopted. In addition, the Lexar Ares DDR5 will be on sale during the Amazon Prime Day promotion from July 12-13, 2022, for $199.99.

As far as its design goes, the Lexar Ares OC features a slick-looking aluminum build with a nice heat spreader to keep it running cool under pressure. It feels sturdy, well-made, and simple to install. The kit is backed by a lifetime warranty.

Lexar Ares OC DDR5 Desktop Memory Specifications
| | |
| --- | --- |
| Interface | 288PIN |
| Speed | 5200Mbps (XMP 3.0) |
| Operating Temperature | 0°C to 85°C (Surface) |
| Storage Temperature | -55°C to 100°C |
| Dimension (L x W x H) | L140 x W43.25 x H7.9mm (with heat spreader) |
| Memory Type | DDR5 |
| Standard | JEDEC 79-5/XMP 3.0 |
| CAS Latency | CL38-38-38-74 (XMP 3.0) |
| Voltage | 1.25V (XMP 3.0) |
| Application | Gaming / Creating |
| Warranty | Lifetime (with certain limitations) |