Includes updated NVMe-oF spec support for OpenStack software.
By StorageNewsletter.com on
Kioxia America, Inc. has released version 3.19 of its KumoScale storage software built around the NVMe-oF protocol with enhanced automation and orchestration support.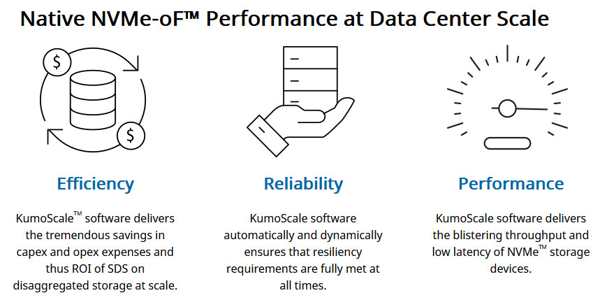 Designed for cloud-centric deployment at data center scale, the KumoScale-based storage platform delivers performance NVMe flash storage as a disaggregated networked service. Major features in KumoScale software V.3.19 include SSD device management and enhanced NVMe-oF spec support for the latest release of OpenStack infrastructure software, codenamed 'Xena.'
Operator-driven SSD device management
V.3.19 adds automation support for lifecycle management of NVMe drives in disaggregated storage nodes.
This means that storage administrators now can monitor and manage storage resources at all points from the client all the way down to the firmware of the storage devices being used. SSD functions supported include:
Adding and removing SSDs from storage pools
Migrating data on one SSD to another without interrupting IO
Blinking the LEDs of SSDs safe for physical removal
Upgrading SSD firmware
Importantly, data relocation can be performed without disrupting storage traffic, allowing online upgrade of SSDs to add capacity or performance.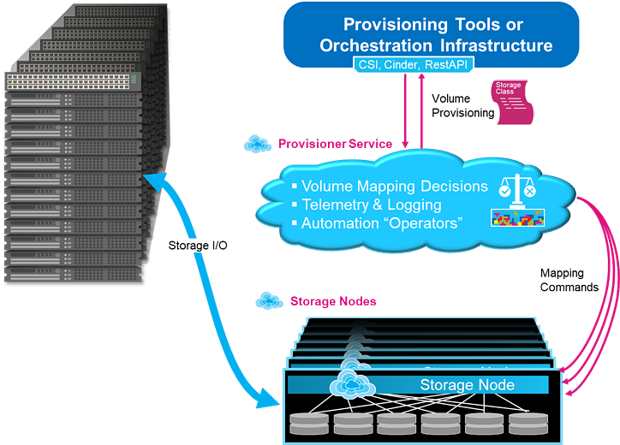 Declarative control
KumoScale maintenance operations are declarative, rather than imperative. This makes otherwise risky and complex activities easy and safe, by embedding the logic for how to accomplish them into the system itself. This is done via a simple, but deceptively powerful, control structure called an 'operator.' Pioneered in the Kubernetes container orchestration framework, operators allow the user to simply specify the desired state of the system (e.g. which SSDs should be empty or their desired firmware version), and the system will act to move itself to that state. Operators are provided for a variety of maintenance and configuration actions in addition to SSD management.
OpenStack software support
KumoScale storage software V.3.19 includes native integration with the latest OpenStack infrastructure software release, codenamed Xena. As an active member of the OpenStack contributor community, the company has made several enhancements to integrate performance NVMe-oF storage to this open source infrastructure framework.
The firm contributions enhance NVMe-oF storage capabilities in the OpenStack environment:
Xena release os-brick nvme.py connector broadens support to include many commonly used Linux distributions.
Xena release nvme.py connector has been enhanced to support volume snapshots.
These enhancements make NVMe-oF technology more efficient for large scale OpenStack infrastructure deployments.
KumoScale software V.3.19 also includes additional enhancements to add support for the Ubuntu distribution of Linux, the latest Kubernetes CSI version, and adds CSI and Ansible support of snapshot and clone functionality.