Including BG5 Series SSD and automotive UFS
At CES 2022, Kioxia America, Inc. has demonstrated its flash memory technology and spotlight several different applications for attendees, including its BG5 Series of SSDs.
Virtual Experience Center showcases company's product lineup and highlights range of product videos and demos.
Designed to bring a suitable balance of performance, cost and power to everyday gamers and PC users, the BG5 Series is built with a PCIe interface (16GT/s x4 lanes) and accelerated by the company's fifth-gen BiCS flash 3D flash memory technology. These attributes make BG5 drives suitable for thin, light and performance-oriented systems such as ultra-thin PCs, IoT embedded devices and server boot in data centers.
BiCS flash 3D flash memory
Click to enlarge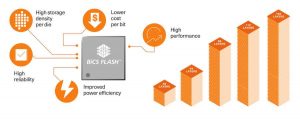 The firm has also showcased its latest flash memory solutions, including advances to BiCS flash, the company's cutting-edge 3D flash memory technology, and the most recent gen of its automotive UFS devices.
"The Kioxia legacy of innovation continues with product introductions such as the latest gen of BiCS flash 3D flash memory and our new BG5 Series solid state drives," said Alex Mei, VP, corporate marketing. "Whether it is automotive applications or compact high performance-oriented PCs, we are committed to developing flash storage solutions that enable the success of emerging applications and allow existing technologies to reach their potential."
CES demonstrations can be accessed through CES by visiting the company's digital booth DO-607 and also by viewing own virtual platform, and include: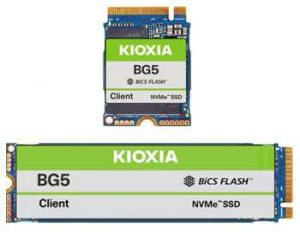 BG5: Available in capacities up to 1,024GB, BG5 Series drives deliver performance to the mainstream swim-lane by enabling PCIe 4.0 without sacrificing affordability.
Entire breadth of the firm's product line, from SSDs to automotive UFS to sixth gen BiCS flash 3D flash memory, will be highlighted through demos.