Using Marvell 88SN2400 NVMe-oF SSD controller that converts NVMe SSD into dual-ported 25Gb NVMe-oF SSD
Kioxia America, Inc. announced the EM6 Series Enterprise NVMe-oF SSDs for Ethernet Bunch of Flash (EBOF) systems.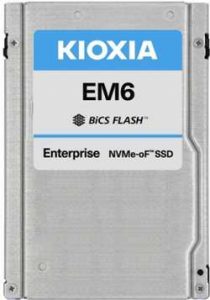 Using the Marvell 88SN2400 NVMe-oF SSD converter controller that converts an NVMe SSD into a dual-ported 25Gb NVMe-oF SSD, the EM6 Series drives expose the entire SSD bandwidth to the network.
Due to their ability to scale performance of NVMe SSDs, native NVMe-oF architectures are for applications such as AI/ML, HPC and storage expansion. In the case of HPC, leveraging the Lustre file system, which is used to provide high bandwidth and parallel access to compute clusters, is beneficial to NVMe-oF based storage, such as EBOF systems with EM6 SSDs, that enable HA configurations. An HPC HA configuration example consists of multiple and redundant network connections between a compute host and an EBOF with 88SN2400-connected NVMe SSDs, to deliver scalable throughput based on the number of SSDs.
In an HA disaggregated block storage expansion use case, the same configuration could accommodate multiple host systems, providing shared and scalable block storage with high bandwidth utilization of the NVMe SSDs.
The EM6 Series drives have undergone Nvidia Corp.' GPUDirect Storage (GDS) certification testing. GDS connects to NvidiaA100-based systems to accelerate AI/ML applications, and EBOF storage platforms enable scaling of NVMe flash storage for these storage-hungry workloads.
EM6 Series key features:
Single or dual 25GbE and RoCEv2 network connectivity
NVMe-oF 1.1 and NVMe 1.4 spec compliant
2.5-inch 15mm Z-height form factor
One DWPD endurance with 3,840, and 7,680GB capacity options
ES2000 EBOF platform

The EM6 Series drives are available through Ingrasys – a subsidiary of Foxconn, in its ES2000 EBOF platform. ES2000 is a 2U storage system that holds up to 24 2.5-inch form factor drives and can be configured with multiple network connections for increased throughput and redundancy.