Updated hardware support with Linux Kernel 5.10.81, better Gluster cluster integration with TrueCommand 2.1, and App integration and support for third-party repository, including TrueCharts
TrueNAS SCALE 22.02 from iXsystems, Inc. is getting to its second and final 'Release Candidate' phase just in time for the Christmas holidays.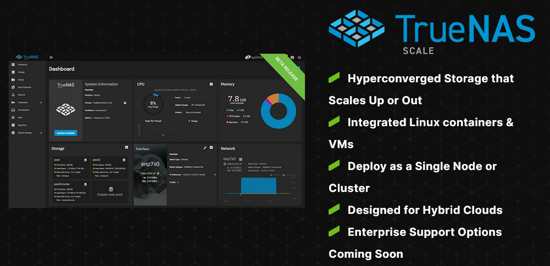 Now it is the time to try out TrueNAS SCALE 22.02-RC2.
The TrueNAS SCALE datasheet has been updated with its planned Angelfish feature set. As TrueNAS SCALE 'Angelfish' matures and its release date is set for February 2022, it transitions to its more formal and official name, SCALE 22.02. The RC1 version (22.02-RC1) had over 6,000 daily users and received excellent feedback and bug reports. Thanks to the TrueNAS community for helping SCALE in this next step on its sleigh ride to full release quality.
TrueNAS SCALE 22.02-RC2 includes:
Better Gluster cluster integration with TrueCommand 2.1
Final set of UX changes to help make SCALE the best TrueNAS experience
Updated hardware support with Linux Kernel 5.10.81
Better App integration and support for third-party repository, including TrueCharts
More importantly, this RC2 version includes over 200 bug fixes from RC1. Over the next 2 months, there will be more bug fixes as well as more extensive performance and integration testing. Linux-based TrueNAS SCALE has some different characteristics to the FreeBSD-based TrueNAS CORE.
Naming and timing of Angelfish releases are shown in following table: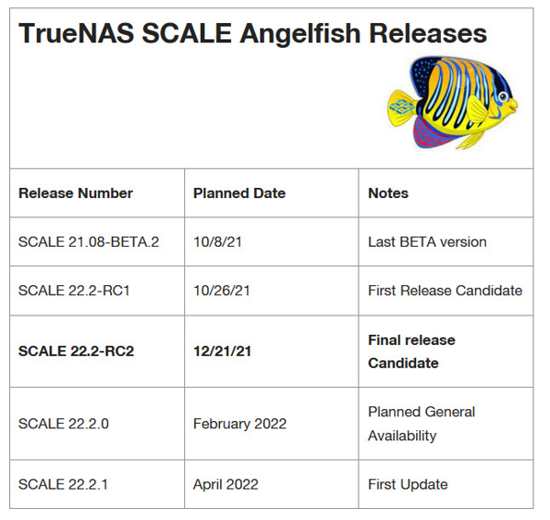 We want to thank the community for the support in bringing TrueNAS SCALE to life. The assistance in finding and resolving bugs has been invaluable. It has also been awesome to collaborate with many developers who have contributed major enhancements. Please keep reporting bugs and making suggestions as we finish this initial GA release together as a community.
'Bluefin' has started its Journey
Bluefin is the next major release after Angelfish. It will include some enhancements including scale-out ZFS snapshots and replication, clustered Kubernetes, and clustered hypervisors.
Bluefin nightly images will start publishing in early 2022, and the company will finalize the list of major features around the same time. It will remain as nightlies until it reaches beta. At that point, the firm will give it an official version name and a target GA date in 2022. Information in jira.ixsytems.com and can expect us to blog about it more in early 2022.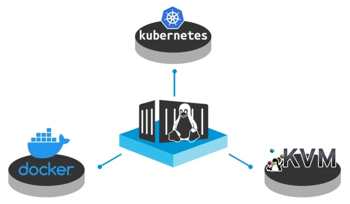 Who should use TrueNAS SCALE?
At this RC2 stage of its Software Development Lifecycle, TrueNAS SCALE is primarily for developers, testers, tech-savvy enthusiasts, and early adopters. For Linux developers, there are many opportunities to contribute to the Open Source TrueNAS SCALE project, and the compan has a Discord Community for contributors. It is a well-coordinated and managed environment to collaborate in developing the best open HCI as a collective. For more information, see this community post.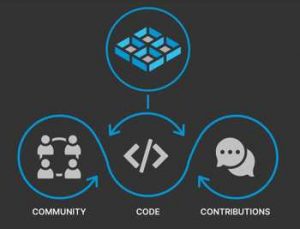 For larger commercial users with scale-out needs, the company has a formal beta program to support specific deployments and applications before they complete testing and enter the production phase. TrueNAS SCALE can be supported on TrueNAS M-Series, R-Series, and Mini platforms.
Production users with standard NAS (NFS, SMB, iSCSI, S3) requirements are still advised to use TrueNAS CORE and Enterprise, which have a 100x  more data under management and over 10 years of operation and stability. It has inherited some of that maturity and the automated testing but has not completed its software quality lifecycle.
Click to enlarge