The Inspur NF5266M6 is a 2U dual-socket rackmount server designed for high-density storage, supporting up to 26 3.5-inch drives—24 in the front with a unique tray-load system and an additional 2 in the back. It's not lacking for performance, thanks to Intel's "Ice Lake" Xeon processors, and offers ample expansion with up to seven PCIe slots, including OCP 3.0. Overall, we found the NF5266M6 a versatile storage server that checks the boxes that buyers in this segment require.

Inspur NF5266M6 Specifications
The NF5266M6 is one of Inspur's six offerings in its rackmount M6 server family. In addition to 24 3.5-inch hot-swappable front bays, it also supports a variety of drive options around the back, including a bank of E1.S ruler SSDs. Its seven PCIe slots include up to two OCP 3.0 slots. This server supports two third-generation Intel "Ice Lake" Xeon Scalable CPUs and 16 DIMM slots (eight per CPU) for up to 2TB of RAM.
The NF5266M6's competition includes the HPE Apollo 4200 Gen10, which also offers 24 hot-swappable 3.5-inch bays and 16 DIMM slots. For the most part, there are few systems that offer this much 3.5″ density within a 2U form factor.
For system management, the NF5266M6 runs Intelligent Management System BMC (ISBMC4) with IPMI 2.0 and Redfish 1.8 support.
Inspur also offers its SuperX storage in hyper-converged infrastructure (HCI) via Inspur Rail. Multiple NF5266M6 servers can work together for superior performance. In Inspur's testing, it configured three NF5266M6s with two Intel Xeon Gold 6330 CPUs, 128GB of RAM, two NVMe caching drives, and one 4TB SAS storage drive, and connected them through a 100Gbps TCP network. Performance in that scenario is up to 830,000 IOPS in 4K sequential read and 740,000 IOPS in 4K sequential write, according to Inspur.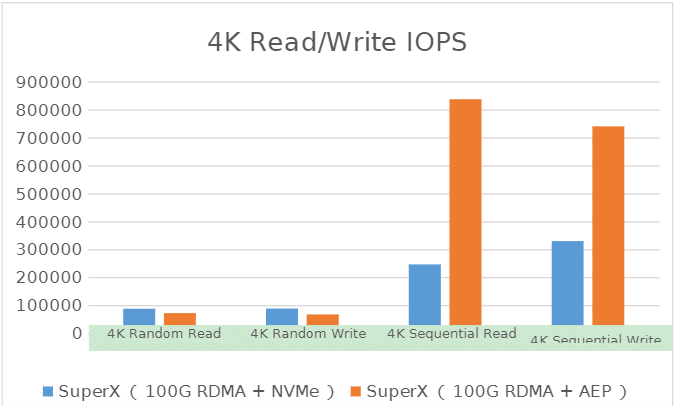 The NF5266M6's full specifications are as follows:
Model
NF5266M6
Form Factor
2U rackmount server
Processor

1 or 2 Intel® Xeon® 4300, 5300, 6300, 8300 series scalable processors
3 UPIs and 11.2GT/s per link.

Memory
16 x memory slots.

Each processor supports 8 x memory channels and each channel supports a maximum of 1 memory slot.
Memory speed can reach 3200MT/s. Support RDIMM and BPS/NVDIMM.
Memory protection mechanisms: ECC, memory mirroring, memory-level protection.

Storage
Front: up to 24 × 3.5-inch SAS/SATA SSDs (hot-plug)

Rear:

up to 8 x 2.5-inch SAS/SATA/NVMe/E1.S SSDs or 2 x 3.5-inch drives (hot-plug)
Up to 2 x M.2 SSDs or 2 x E1.S SSDs storage modules
Up to 2 x TF cards (1 x BIOS + 1 x BMC)
(Max. drive support is determined by the specific configuration)

I/O Scalable Slot
Up to 7×PCIe slots, including 1x OCP3.0 slot, up to 2x OCP3.0 slots.
Network
Up to 2 x OCP3.0, 1/10/25/40/100/200Gb/s 1/10/25/40/100/200Gb standard NICs.
Interface
2 x rear USB3.0 + 1 x rear VGA + 1 x COM port
System Fan
N+1 redundancy and hot-pluggable.
PSU
1+1 redundant platinum power supplies High-voltage DC and titanium power supply.
System Management
An independent 1000Mbps NIC dedicated to IPMI remote management.
OS
Microsoft Windows Server, Red Hat Enterprise Linux, SUSE Linux Enterprise Server, CentOS, etc.
Dimension

(W x H x D)

482mm (19 inches) x 87.5mm(3.4 inches) x 891.2 mm(35 inches) (with mounting ears)
447mm (17.6 inches) x 87.5mm (3.4 inches)x 866 mm (34.1 inches) (without mounting ears)

Weight
45kg (99.2 lbs)
Working Temperature
5°C-40°C. 41°F-113°F.
Inspur NF5266M6 Build and Design
The NF5266M6 has normal 2U rackmount measurements of 19 by 3.4 by 35 inches (including mounting ears). The front of the server has a different look than you'd expect, however, as no individual drive bays are visible.  Instead, the 24 hot-swappable front bays are uniquely divided into three trays of eight drives. (See our demonstration on TikTok.)