By Jean Jacques Maleval
IBM Storage offers a 48-Port 64 Gbps FC switching module to meet the performance needs of most demanding, modern NVMe-based data centers
IBM Storage Networking SAN192C-6, SAN384C-6, and SAN768C-6 deliver switching technology and are designed to integrate multiprotocol switching and routing, intelligent SAN services, and storage applications onto highly scalable SAN switching platforms.
SAN768C-6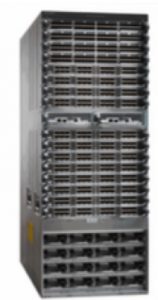 The 48-port 64Gb FC switching module offers the following benefits:
Investment protection
Enhanced hardware for better NVMe/FC support with improved analytics
Lower TCO with SAN consolidation
Enterprise availability
VM-aware SAN deployment
Traffic management
Diagnostics and troubleshooting tools
Comprehensive solution for robust security
Backward interoperability and compatibility
Non-disruptive upgrade
Storage Networking c-type family lowers TCO for storage networking by combining robust and flexible hardware architecture, multiple layers of network and storage intelligence, and compatibility with all c-type family line cards. This combination helps organizations build highly available, scalable storage networks with comprehensive security and unified management.
48-port 64Gb FC switching modules deliver predictable performance, scalability, and features to support modern data centers. With 768 line rate 64Gb FC ports per director, the 64Gb/s 48-port F switching module meets the needs for NVMe over FC and flash memory storage.
Key requirements
NX-OS software release 9.x, or later, is required for Supervisor-4 and Fabric-3 support
NX-OS software release 9.2 (1), required for the 48-port 64Gb/s feature AJL7