For 2 and 4 dedicated M.2 device ports, integrated host RAID-1, -0 and JBOD support, optional OOB management when outside of OS platform
HighPoint Technologies, Inc.'s SSD6200 Series NVMe RAID controllers are for professional virtualization and industrial applications that require host-level RAID capability and high-speed, bootable and redundant storage with native in-box driver support.

SSD6200 Series controllers were designed to maximize uptime of the host platform and ease the of integration and maintenance of NVMe RAID storage. In addtion, a range of solution package are available for the professional VAR; customers can opt for either 2 and 4 dedicated M.2 device ports, integrated host RAID-1, 0 and JBOD support, optional OOB management when outside of the OS platform, LED RAID status and I/O indication, UEFI/BIOS/CLI/GUI management interfaces, and half-height or full-height form factors.
Integrated host RAID technology
HighPoint industrial and virtualization solutions feature integrated host, hardware-level RAID-0, -1 and JBOD capability. RAID arrays hosted by SSD6200 series controllers are transparent and will be automatically recognized by all current VM and OS platforms as available single-drives. No drivers, special procedures or software application is required.
Maximum uptime
RAID-1 mirroring technology remains one of the effective way to secure a bootable storage configuration vs. the threat of device failure. RAID-1 creates a hidden, automated backup of the target drive; in this case, a bootable NVMe SSD. If the original should fail, the mirrored backup will immediately, and seamlessly, take the reins. This enables the host system to remain online, and continue to operate, unabated.
Painless installation and upgrades
Native hardware support ensures OS upgrades
SSD6200 series controllers enable professional solutions providers to seamlessly configure bootable, redundant RAID storage for a range of customer applications. Native In-Box Driver support is available all major virtualization platforms, such as VMware, Hyper-V and Promox, and all current versions and distributions of Windows, Linux and FreeBSD Oss.
Customers are free to update the Kernel, apply patches, or download and install scheduled updates as needed, without fear of data loss or the need for complicated procedures.
Streamlines installation and service workflows
Features for professional solution providers and VARs
SSD6200 and RocketMate 200 Series NVMe storage solutions offer a variety of enterprise features designed to streamline the configuration, deployment and service workflows of industrial solution providers. Solution providers can prepare SSD62000-based solutions prior to deployment using the RAID hardware switch, and service installations outside of the host OS using the out-of-band port.
Versatile form-factors – HighPoint industrial and virtualization NVMe RAID solutions can be easily integrated into any industry-standard PC workstation, server and rackmount platform with a free PCIe Gen3 or Gen4 x8 or x16 slot.
RAID hardware switch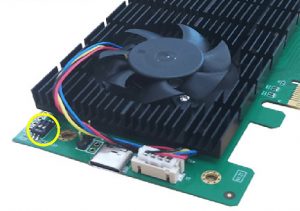 RAID hardware switch – Optional hardware switch for instant RAID configuration. No OS or software application required; administrators can instantly configure RAID-1 mirroring for security, RAID-0 striping for maximum performance and capacity, or configure the SSDs to operate as independent disks, without having to physically install the controller.
OOB port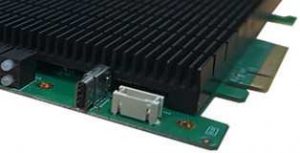 OOB port – The SSD6202A and SSD6204A controllers provide an out-of-band management port and integrated console management interface. OOB is for field maintenance and on-site services as it allows the RAID storage to be administered in a pre-OS environment. OOB is suited to secure datac enter and hosting applications, as it only grants access to the NVMe RAID console and configuration; it cannot interact with user data in any way.
LED indicators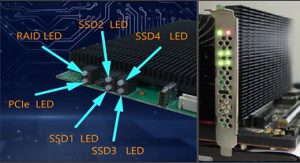 LED indicators – SSD6200A Variants include LED indicators that are capable of tracking the status and I/O of RAID configurations and NVMe media.
Universal compatibility – SSD6200 series controllers support any off the shelf M.2 NVMe SSD, and impose no capacity limitations. SSD6202A/6202 models support 2242/2260/2280 form factors, while the SSD6204A/6204 are also capable of supporting full length 22110 SSDs.
Management suite – UEFI, BIOS level, console command line and graphical web-based management packages are available for both client and solution provider.
Click to enlarge

OEM/ODM engineering and manufacturing services
The company understands the challenges solution providers are faced with when tackling a new project. Aside from the usual performance and capacity considerations, solution providers must account for the customer's form factor, dimensional restraints, controller board placement, and workflow requirements.
The firm is ready to assist OEM/ODM clients integrate NVMe RAID technology into a custom designed and manufactured RAID controller card, and provide rebranding services.
Availability:
SSD6200 Series controllers are available from the company's official resale and distribution partners.
RocketMate 220 is expected to ship towards the end of December 2021.
SSD6200A variants are available upon request
Click to enlarge