And up to 10x as quick for mixed tasks compared to previous gen
This is a Press Release edited by StorageNewsletter.com
GB Labs Corp., innovators of storage solutions for the M&E industries, has introduced a new version of FastNAS technology. 
FastNAS gen 2 can deliver up to 4GB/s real deliverable network performance and is up to 10x as quick for mixed tasks compared to the previous gen.
More importantly, FastNAS gen 2 can deliver massively improved performance for today's real-world workflows that typically require an effective multi-tasking storage that delivers fast simultaneous read and write data rates. The gen 2 offers up to a 10x speed improvement over the previous FastNAS range.
Production and post-production workflows are becoming ever more complex. Storage systems have to support not just ingest and editing but rendering, archiving, cloud access and increasingly, collaborative remote and home working. All of this together puts a lot of strain on shared storage, which is now expected to support large numbers of concurrent processes, which in turn places an exponential load on available bandwidth.
FastNAS is built on 3 technologies from the company, each of which sees a major revision to achieve this speed boost. At the heart of the product is the Velocity RAID engine (VRE) which controls and manages the disk array. The new version adds increased intelligence, aimed at delivering more performance from a simultaneous mix of tasks.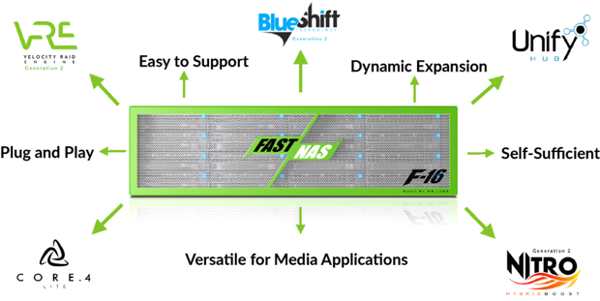 VRE is coupled with Nitro, the firm's NVMe acceleration tool, which gains a large speed boost in revision 2. On top of that is layered Blueshift, which enables the specialist architecture of FastNAS to sit on a conventional network and deliver to clients over standard protocols. This ability to serve media content with very low latency to large numbers of concurrent users is a unique benefit from the company.
"In any normal storage system, simultaneous read and write of data is the overhead," explained Dominic Harland, CEO. "The more simultaneous accesses and processes, the more latency builds and thus the overhead grows exponentially. This is why users become dissatisfied with the performance of shared storage. FastNAS gen 2 is built to mitigate this."
"FastNAS uses our own specified hardware and software to alleviate these constraints," he added. "We were always leading on performance: this new version puts us far ahead of the competition. And we are doing it at the same price point as before and retaining our unique plug-and-play ability: you can take our product out of the box and be managing content within 15 minutes with no specialist engineering assistance."
FastNAS gen 2 was launched on 9 November, 2021, and is available from the company.