Temperature from -40°C to 85°C, low power draw, full-disk encryption and high sustained PCIe performance
by StorageNewsletter.com
Exascend, Inc. launches industrial-grade PCIe Gen4 E1.S SSD.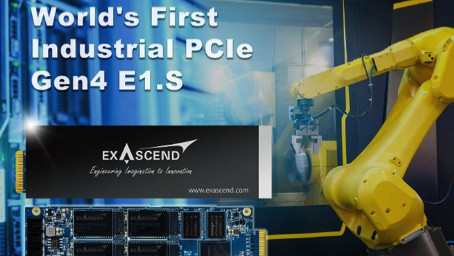 Unveiled recently in its PI4 PCIe NVMe Gen4 SSD lineup, the firm's rugged PCIe Gen4 E1.S SSDs mark a step forward in the company's mission to deliver enterprise performance across applications that demand industrial-grade flash storage solutions.
From cloud data centers to rugged edge servers
As a scalable and server-friendly alternative to the traditional M.2 standard, the E1.S (EDSFF) form factor was purpose-designed for high-performance data center and server applications. It combines storage density and performance with a thermal design suitable for hyperscale storage.
In alignment with the company's mission to deliver enterprise performance everywhere, the firm combines its industrial and enterprise storage expertise to create the first rugged E1.S SSD. PI4 series of E1.S SSDs unlocks the potential of industrial applications by giving them a true enterprise storage upgrade – powering next-gen edge servers and embedded applications with performance, reliability and power efficiency.
"Launching the world's first industrial-grade E1.S lineup marks a key milestone for our company. Not only does it showcase our commitment to bringing enterprise performance to rugged applications, but it also solidifies our position as a flash storage innovation leader," Frank Chen, CEO, said. "Feedback from clients has been exceptional and we cannot wait to see our rugged E1.S SSDs enabling future applications."
Designed for enterprise workloads in industrial settings
The E1.S lineup boasts low power draw, full-disk encryption and high sustained PCIe performance in storage capacities up to 7,680GB – addressing the performance, security, and storage requirements of hyperscale computing infrastructure.
The PI4 features E1.S SSDs with operating temperature support from -40°F to 185°F (-40°C to 85°C), leveraging the firm's SuperCruise technology to deliver enterprise performance no matter the ambient temperature. The result is 5x the QoS and more than 2x the minimum performance – which integrate the solution into industrial as well as performance data-logging systems, such as next-gen ADAS systems in the automotive industry.
Reshaping future of low-power storage
Where thermal management is becoming a critical part of high-power ADAS systems, the company's proprietary Adaptive Thermal Control (ATC) technology paired with its low-power SSD controllers enables the products to reduce system thermal and acoustic design complexity, helping to bring down the entire system BOM cost. Further, the PI4 series E1.S SSDs boast firmware and hardware power loss protection to shield data vs. unstable power supply. This means that even in the case of SSD capacitor failure, the drive has a firmware fallback that guarantees data integrity.
At the same power input, E1.S SSDs deliver better thermal performance than M.2 SSDs. This leads to improved energy efficiency and product longevity. E1.S SSDs can also be configured with heat spreaders as well as asymmetric and symmetric enclosures to cater to different thermal environments.
Applications, configurations and availability
With PI4 E1.S SSDs, businesses can deploy enterprise storage in next-gen industrial applications. Examples of suitable edge applications forPI4 series E1.S include edge servers and equipment, offshore power and resource installations, ADAS data loggers, telecommunications equipment and stations, as well as traffic and environmental monitoring stations.
Product samples for the PI4 E1.S SSDs are available for customers upon request. All PI4 models are covered by 3-year limited warranty.