Up to 7,200Mb/s and up to 6,850Mb/s RW speeds
by StorageNewsletter.com
Following the launch of its Citadel and C Series SSDs, DigiStor, a CRU Data Security Group LLC (CDSG) brand, launched its M.2 commercial-class PCIe Gen 4 NVMe SSDs. 
They deliver fast performance for demanding applications, including AI, video editing, visualization, and scientific and engineering modeling and analysis.
"This next gen of SSDs marks a milestone in DigiStor's commitment to delivering the industry's best solutions for customers who demand reliable high-performance storage in their computers," said Murray Ellis, VP, engineering. "These products reinforce our technology leadership and ensure customers that we have diverse storage offerings, including solutions for encrypting or physically securing sensitive and classified DAR."
Available in the M.2 NVMe form factor and offering a capacity ranging from 500GB to 4TB, the company's SSDs are for devices, including laptops, desktops, workstations, and purpose-built systems. In addition, these SSDs use the latest in PCIe Gen 4 controller technology making them 2x faster than their PCIe Gen 3 equivalent drives.
These SSDs set a high-water mark for single-drive performance, more than doubling the throughput speed of DIGISTOR's PCIe Gen 3 SSDs.
The CrystalDiskMark results are as follows:
Read performance: up to 7,200Mb/s (2.1x faster than firm's commercial PCIe Gen 3 SSDs).
Write performance: delivers up to 6,850Mb/s (2.3x faster than firm's commercial PCIe Gen 3 SSDs)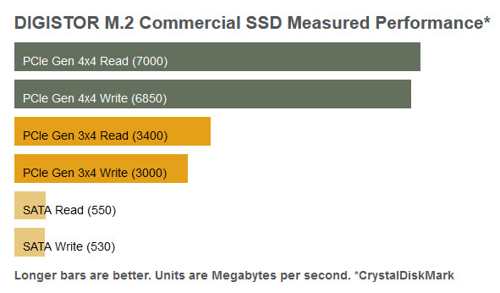 The company's commercial (non-encrypted) PCIe Gen 4 SSDs are available to order. (Self-encrypting TCG Opal 2.0 versions of the PCIe Gen 4 SSDs will be available in 1Q22.)
Click to enlarge