Including prototype 'Project Nighthawk' with Silicon Motion SM2508 controller and "Project Blackbird' with InnoGrit IG5666 controller
XPG, a Adata Technology brand name for gamers, will be on location in Las Vegas, NV, USA, during the 2022 CES show (January 5-8).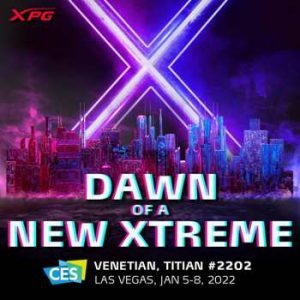 Under the theme of 'Dawn of a New Xtreme,' it will be showing off the latest products from the company including gaming systems, peripherals, accessories, and components, such as the DDR5 memory, PCIe 5.0 SSD and the latest Platinum PSU.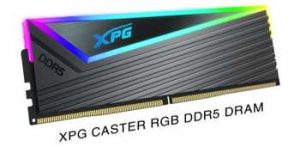 Next-Gen SSD and DRAM performance
XPG is gearing up to bring next-gen performance to gamers and other users with its PCIe Gen5x 4 SSDs and DDR5 DRAM. At the booth, visitors will get a first look at the Lancer RGB DDR5 and Caster RGB DDR5 that deliver up to 6,000MT/s and 7,000MT/s, respectively. The company's industrial-grade DDR5-4800 U/SO/R-DIMM memory with on-die ECC and PMIC will also be on display.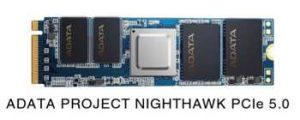 In addition, 2 prototype company's PCIe Gen5x 4 SSDs will make anl appearance at the booth. They include 'Project Nighthawk,' which sports a Silicon Motion Technology Corp. SM2508 controller and is capable of delivering sequential R/W performance of up to 14/12GB/s, and 'Project Blackbird' featuring an InnoGrit Corp. IG5666 controller and is capable of delivering R/W performance of 14/10GB/s.

Both SSDs sports capacities of up to 8TB.
The Elite SE920 USB-4 external SSD will also be there. The external SSD is capable of transfer rates of up to 40Gb/s and is equipped with a proprietary thermal cooling design that features a built-in fan.
Foundations for Building 'Killer' Gaming PC
Taking rig to a Xtreme requires increased power. Following the Gold-certified XPG Core Reactor PSU, CES will be the launch venue for the latest and powerful PSU, the CybercoreE, an 80 Plus Platinum-certified and 'Cybenetics-certified Power Supply' that is ready to take the challenge of power-hungry performances of the upcoming CPUs and GPUs with its 1000W and 1300W configurations, respectively. Featuring Vento PRO fans made in collaboration with Nidec Corp., CyberCore PSU promises to elevate the firm to become the top PSU maker in the segment.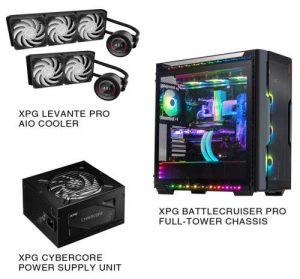 The company will also display a prototype of the Battlecruiser PRO, an ATX full-tower chassis with a 4-sided tempered-glass panel design and a software customizable fan and light management logic control built-in.
Rounding up components will be the latest AIO Liquid-cooler of the Levante family, the Levante PRO, featuring a LCD round display that can be customized via Prime Software Ecosystem, equipped with the ASETEK liquid cooling solution, and high-end Vento PRO 120 PWM fans.
Maximum control with latest X,peripherals and accessories
The company's complete family of gaming peripherals will be present at the firm's booth. Among them, the company is launching the Alpha series of new gaming mice, featuring its latest grounds-up ergonomic design and a high-performance Pixart PAW3335 optical sensor. The series includes a wireless version with proprietary 2.4Ghz connectivity when gaming, or a standard Bluetooth connectivity for everyday use, and a wired version, all products featuring compatibility to the Prime Software Ecosystem.
The company will also let visitors have a peek at its latest concept product called XPG Vault, a wired USB-C mouse that wants to be 'your gaming library, in the palm of your hand'. Current prototype can integrate up to 1TB of solid state memory running at 985MB/s and a Gaming Launcher software that promises to make your gaming libraries conveniently portable and a higher level of game integration with Prime Software Ecosystem.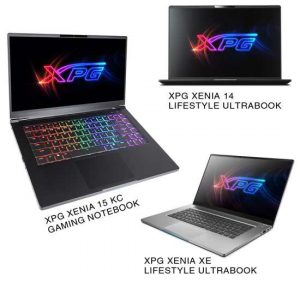 Get gaming and productive with full lineup of gaming systems
The firm's lineup of notebooks will be out in force at its booth, including the 15.6-inch Xenia 15 KC. The device is the result of a design collaboration between XPG and Intel Corp. and sports a 11th Gen Core i7 11800H processor and Nvidia RTX 3070 graphics. What's more, for stability and performance, the notebook is equipped with a liquid metal thermal interface solution, 1TB Gammix S70 PCIe Gen4 SSD, and 32GB (2x16GB) DDR4-3200MHz high-performance XPG memory. The other systems to be at the show include the 15.6-inch XPG Xenia Xe lifestyle ultrabook based on Intel's EVO platform standard, and the light XPG Xenia 14 lifestyle ultrabook with a slim magnesium alloy chassis that weighs in at 970g (2.2 lbs.), making it the lightest laptop in its size.