To bring many types of data into compliance with low cost
by StorageNewsletter.com
17a-4, LLC, a provider in e-messaging compliance, has released a solution for Azure.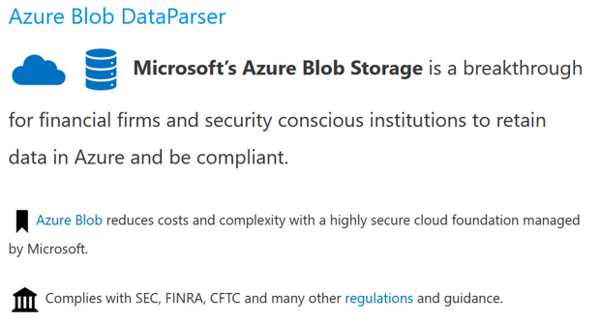 Managing electronic compliance records and SQL database backups is challenging as both technology and regulatory requirements continue to change. To assist clients with these challenges, the company has developed an interface between DataParser and Azure storage which now provides an efficient and cost-effective solution for SEC and FINRA compliance.
Whether compliance records are retained in a file share, SharePoint library or SQL database, the DataParser can pull the compliance content and push it into Azure Blob storage. This type of storage can run as low as $0.001/GB per month and comply with either the non-erasable requirements of SEC Rule 17a-4 or with proposed audit trail regulations.
"Often," says Charles Weeden, partner, "we find that non-email documents such as G/L, HR .pdf reports or new account applications and trading SQL database records are overlooked during the set-up of an SEC/ FINRA repository. By combining both the DataParser collection engine and Azure pricing, we are able to offer a solution that offers an extremely competitive price."
"Currently, many firms are converting to this archiving combination to take advantage of the redundancy and low cost of cloud storage," continues Weeden.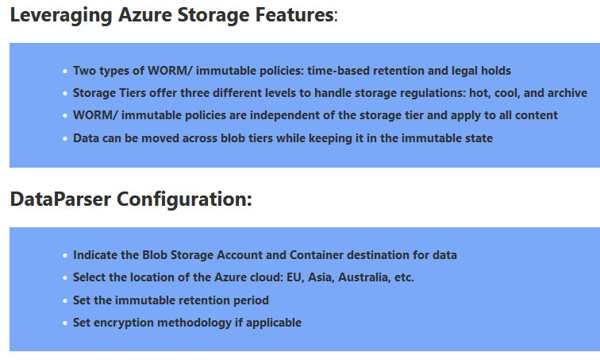 DataParser has been designed to automatically collect data from various sources and deliver to a specific Container within an Azure Blob Storage Account. This integration with Azure allows users to bring regulated data into Azure Blob storage and take advantage of the WORM/immutable policies offered. DataParser has no impact on the collected data source networks or destination archives. Users' chat and collaboration activities are not disrupted by the DataParser's processes.
DataParser offers on-premise and cloud plans.
About 17a-4:
Based in New York, NY, it is a compliance services and software company with a focus on solutions to meet regulatory and e-discovery needs of institutional clients. Clients leverage its expertise to ensure information infrastructures comply with SEC (Rule 17a-4), FINRA and CFTC (Rule 1.31) regulations. 17a-4 services include designated third party, books and records audits, archive reviews and assessments of compliant architectures.
DataParser is an independent middleware solution for messaging compliance. It offers on-premise and hosted plans; deployed globally managing enterprise communication systems. 17a-4's eDisclaimer is a hyperlinked messaging disclaimer service for compliance with regulatory requirements and legal protection for corporate messaging. PostLog is 17a-4's service to capture, format and forward the Twitter and YouTube data into any archive. Firm's architecture provides for a single-point in which all e-messaging content may be managed for retention, legal and regulatory holds and e-discovery productions.